Maybe your new Glock isn't quite "Perfection"…yet. Or maybe your old Glock has lost that new gun smell.
Either way, you're covered since Glock has one of the best aftermarket upgrades and mods in the business.
Learn about the essential upgrades I do to my defensive home and CCW Glocks. Plus the best mods for competition.
And of course…fully custom builds that might tend to be more Gucci than practical.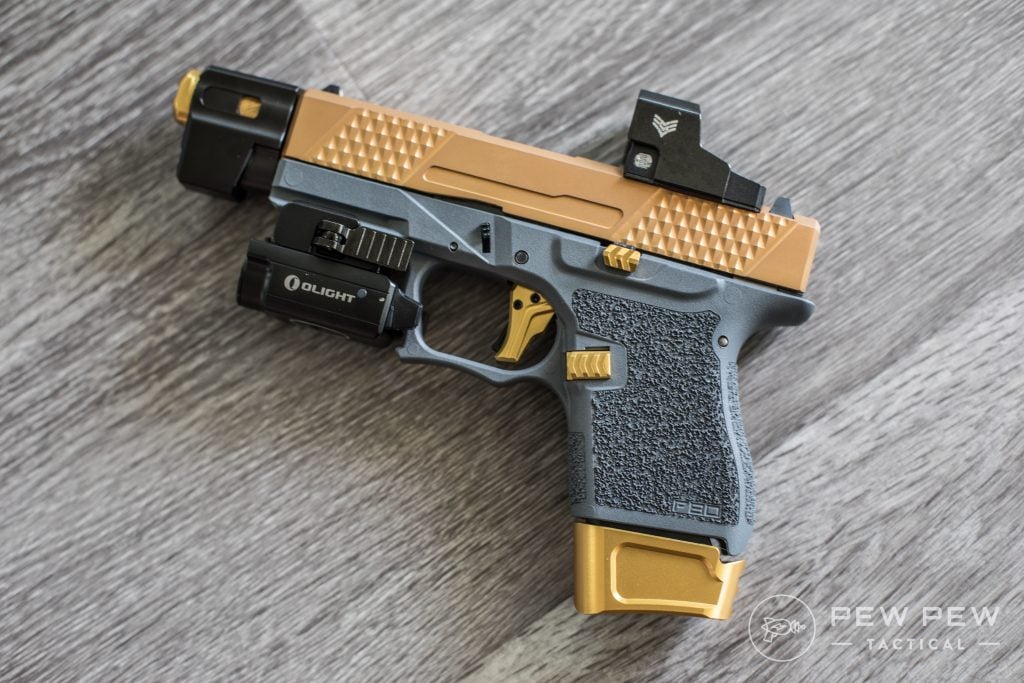 Now with a video detailing each of our 8 personal builds…
Need a Glock to customize? Hit up our list of the Best Glocks for our favorites.
THE QUICK LIST
Home Defense & CCW Glock Upgrades
The primary advice is to not alter your gun for home defense or CCW. But I keep mine pretty "stock" for the most part with Glock OEM parts.
1. Glock Extended Slide Stop Lever
I like to reload from a locked slide position using the slide stop lever. I know tons of people out there preach the slide racking method, but for me, I prefer using my thumbs to activate the slide stop lever.
It saves some time, and I always practice the same motion for my Glocks & 1911s. If anything, it gives me two options of how I want to reload.
For Glocks, I find that the stock version is hard to consistently activate using either of my thumbs. When I upgraded to the extended version, it became infinitely easier to release the slide every time.
Learn how to install it here with video and step-by-step picture walkthroughs.
2. Glock Extended Magazine Release
With my hand geometry and strength, I found I always had to shift my right-hand grip in order to reach the stock magazine release. Once I upgraded to the extended version, I was hitting the magazine release every time without losing my grip.
I take the mod one step further and sandpaper the edges to take away the sharp edges (me and my dainty hands). I also like to sand away extra material in the bottom left-hand corner of the release to give room for my right-hand middle finger.
Make sure to choose the correct Gen version.
For instructions and video on how to install the extended magazine release, check out our other blog post.
3. Ghost 3.5 lb Trigger Connector
The Glock trigger could be a lot better. There are plenty of complete drop-in solutions, but I wanted to keep it as stock as possible to maintain maximum reliability.
So I swapped out the stock 5.5-pound trigger connector with the Ghost 3.5-pound trigger connector. I find that it doesn't drop the trigger pull weight exactly by 2-pounds, but more like 1-pound and change, which is still a significant factor in making more accurate shots.
The Ghost version is supposedly self-cleaning and has run flawlessly in my Glocks.
Check out how to install the trigger connector here.
4. Night Sights or Fiber Optic Sights
If I could only choose one essential upgrade to the Glock, it would be to swap out its crappy standard sights that consist of a white "U" in the rear with a white dot.
I prefer night sights for self-defense and even class situations since I definitely want to be able to see my sights in the dark.
For competition, I like having fiber optic sights since they draw in ambient light and focus it, so you see a bright red/green dot in front. See the rest of all my favorites in Best Glock Sights.
Good thing there are tons of options, and it is relatively easy to install yourself.
5. Talon Grips
For a long time, I was all about stippling…or taking a soldering iron to the polymer grip area and making it a lot more grippy.
You can learn how to do it here…or now there are some non-destructive methods to add more grip with Talon Grips.
I prefer the rubber type as it's better suited for CCW since it doesn't snag on clothing as much as the sandpaper-like granulate type. Here is my G19 with the rubber version compared to the stippled G17.
6. Extended Basepads
If you're running a smaller Glock such as the G43 or G26, it's very possible your pinkie doesn't fit, or you want to extend its capacity.
Enter…Pierce Grips.
Or, if you want to add +1 or +2 capacity…get some Taran Tactical Basepads.
And now also some Tyrant Design extendos for G19s and G17s (and more) we really dig.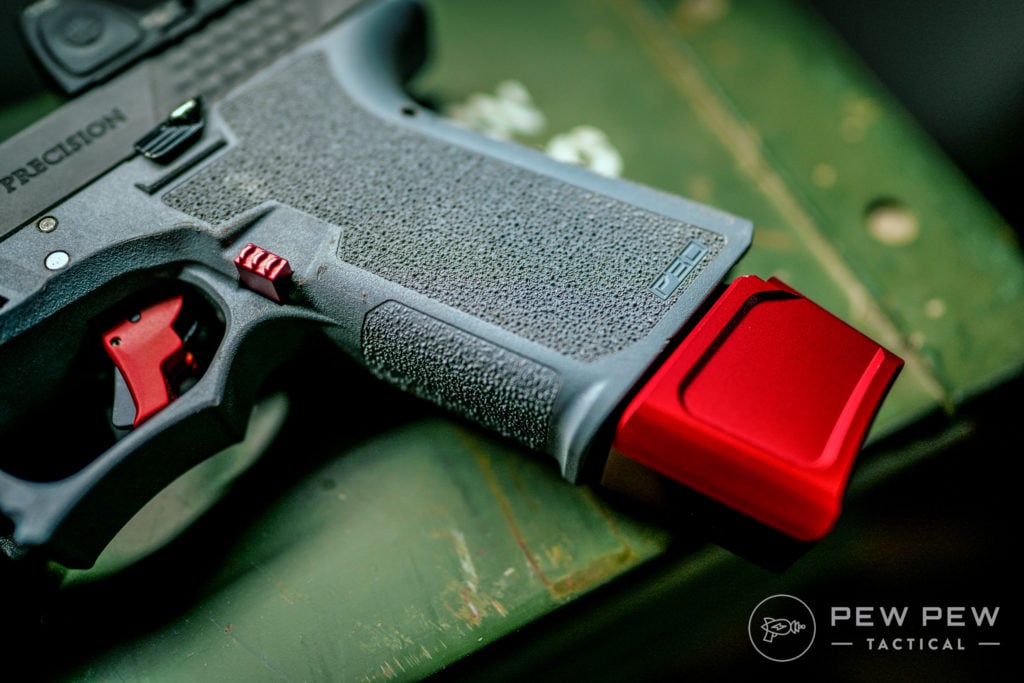 Now even for smaller G43/G43x/G48 models!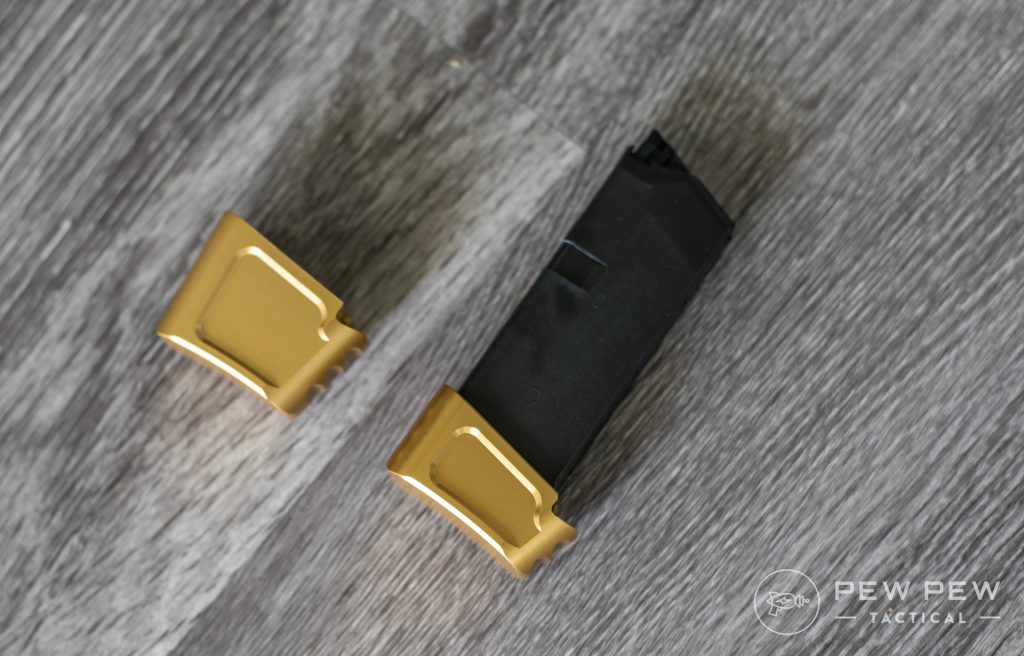 7. Pistol Light
For the home-based or holstered handgun…I highly recommend a pistol light. We go over the Best Pistol Lights in super detail…complete with images of the beams.
Our overall pick goes to Streamlight TLR-1 series which lives on my home defense gun and has survived thousands of rounds on the range.
And the current gold standard of the Surefire X300.
If you want more options (and maybe some more affordable options), check out the main Best Pistol Lights article. Now let's get into some more fun upgrades to give you the leg up in competition.
Competition Glock Upgrades
The go-to Glock for competition is the 9mm G34 which sports a longer barrel, slide, and sight radius. It doesn't weigh much more than a G17 since it has cutouts on the slide.
But regardless if you're running the G34…I would suggest extended components from above plus Talon Grips and the following upgrades.
1. Fiber Optic Sights
You'll want something for quicker acquisition. I recommend going with the Truglo TFX Fiber Optic + Tritium sights for the best of both worlds.
2. Upgraded Drop-In Trigger
Of course…we have a complete guide to the Best Glock Triggers with videos, but here are our favorites. Our best bang-for-the-buck is the Apex Tactical Trigger.
Which feels & looks very nice. Especially at the price.
Check it out in action…
Then we have the best trigger if you're balling it up.
And in action…
Want something more for aesthetic reasons? You can try out the Tyrant Designs ITTS trigger which modifies only the visible part of the trigger and leaves the factory stuff alone.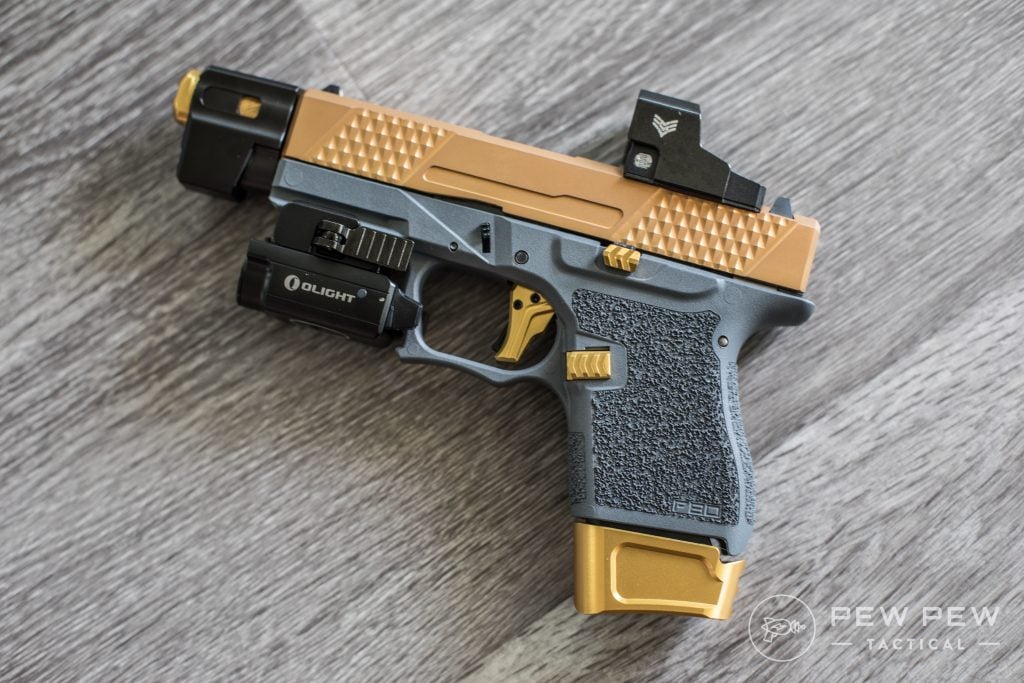 Easy enough to install…check out instructions here.
And be sure to check out our master list of the Best Glock Triggers.
3. Compensator
Glock compensators have exploded onto the scene, but the Tyrant CNC version is especially easy to put on…and one-size-fits-all-generations.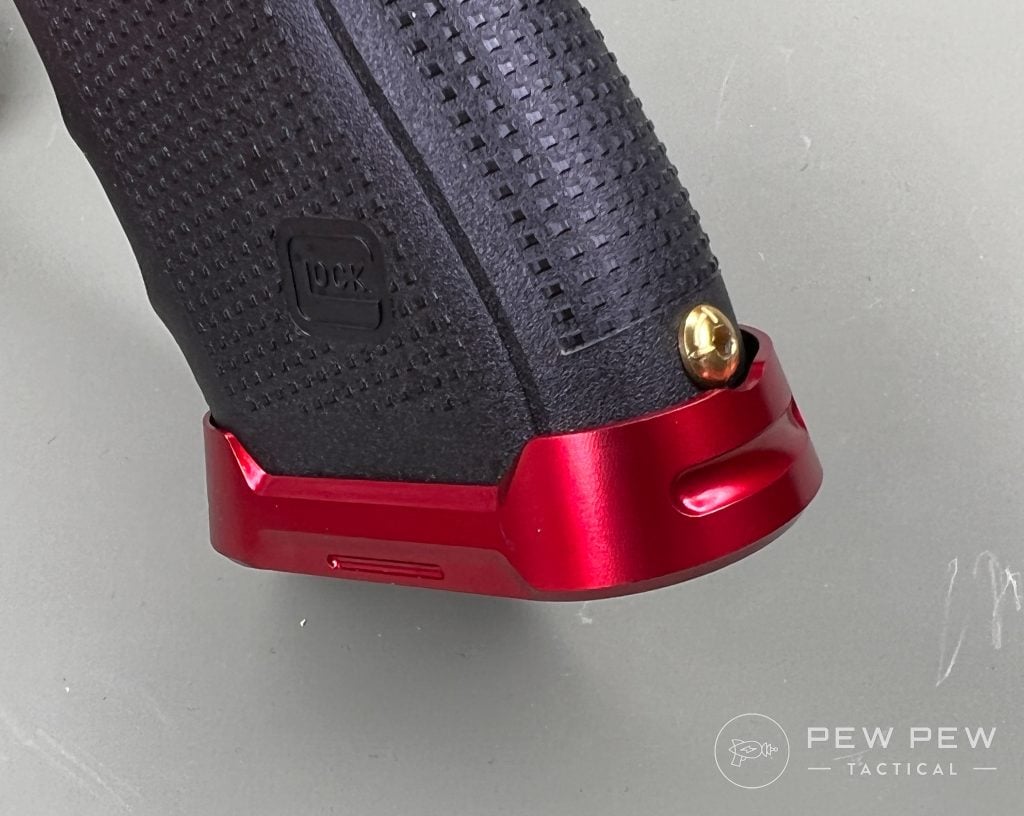 Very noticeable reduction in muzzle rise, especially on my Polymer80 G43 single stack.
4. Magwell
You've probably seen these flared-out additions to the bottom of the grip on most race guns.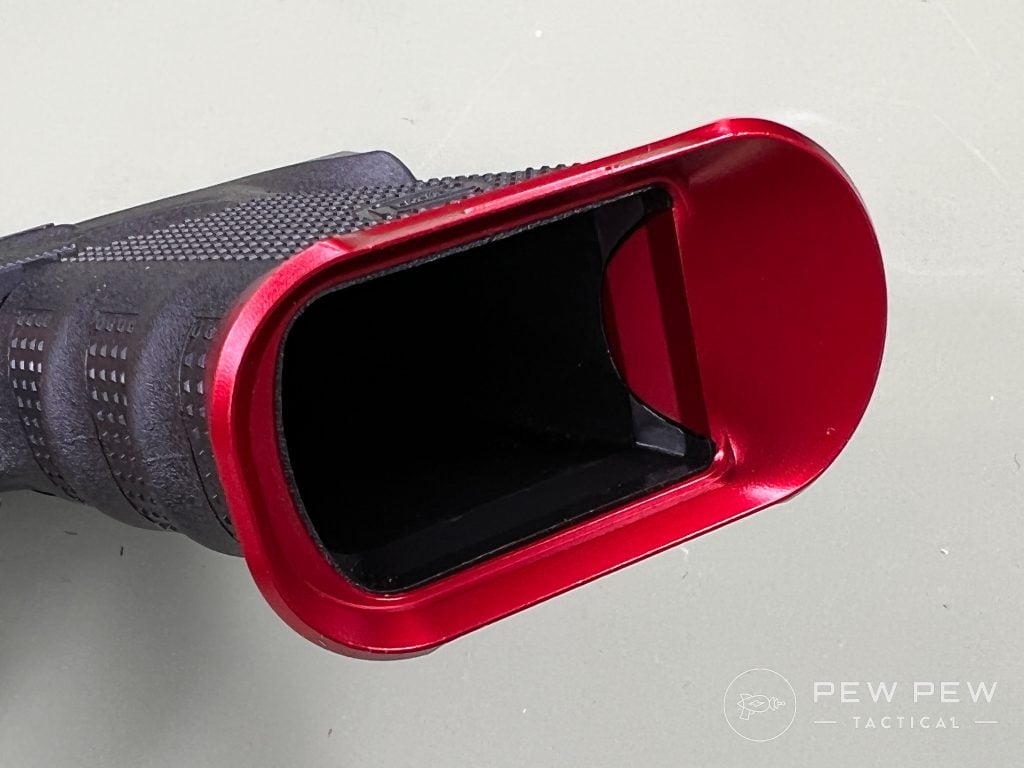 Magwell extensions help your reloads become a little faster and more certain because they offer a bigger target.
The idea is simple — increasing the size of the hole while providing angled walls to help funnel that magazine home makes reloads a snap.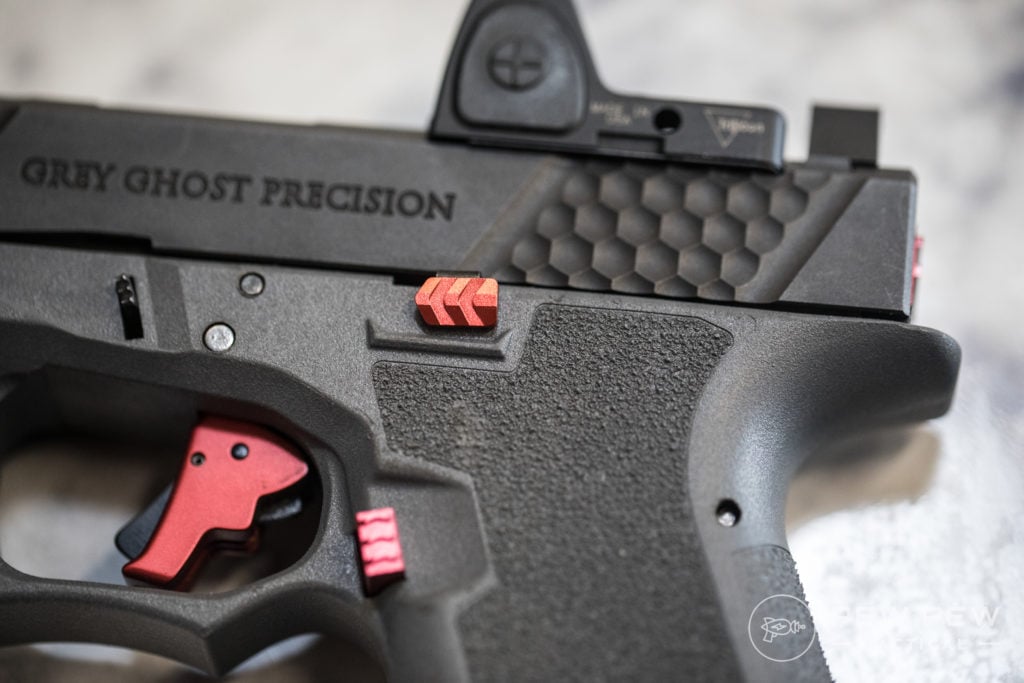 This addition from Tyrant CNC is crafted from aluminum, comes in different colors, and is easy to install on your Glock.
Best Custom Glock Upgrades
The sky is the limit here…especially if you're going with custom frames like Polymer80s.
See the full guide to how to build your own.
1. Custom Glock Slides
Now you can have all the serrations, lightening cuts, and red dots.
But our overall favorite is Grey Ghost Precision because of their tight fit, increased accuracy, and sexy looks.
Followed by our most affordable pick from Brownells that give you options for cutouts to show off your barrel.
How about some more Grey Ghost Precision slides for the tiny bois (43/43x/48)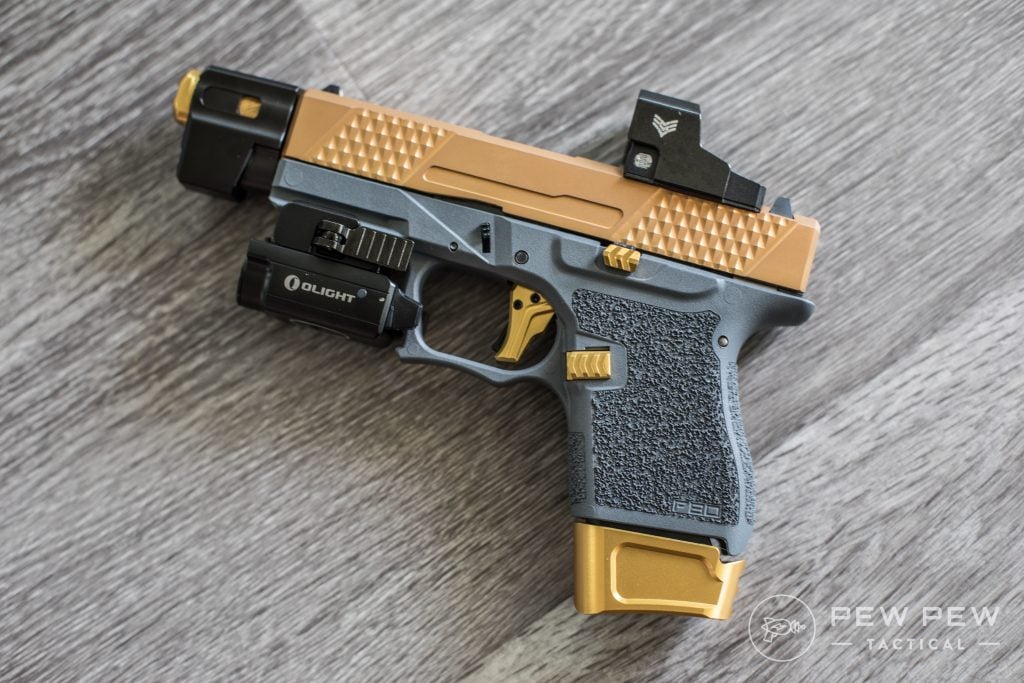 We cover all the rest of our favorites in Best Glock Slides. And speaking of barrels…
2. Custom Glock Barrels
Yup…you guessed it. We have a Best Glock Barrels guide too. We love Lone Wolf's barrels…and they've been at the game a long time.
And also newcomer Faxon's (though they've been making great AR-15 barrels for a long time too). Especially if you want something more eye-catching like their gold TiN or chameleon.
3. Best Pistol Red Dot
If you go with a slide that has a red dot cut…you'll want something from our Best Pistol Red Dots article.
Our go-to red dot if price is no object…plus the easiest "footprint" on ready-to-buy slides is the Trijicon RMR.
Or our best bang-for-the-buck is the Vortex Venom.
4. Tyrant CNC Package
One of our newest mods is a set from Tyrant CNC, which was previously known for some cool AR-15 upgrades. Here you'll see their extended magazine release (which is the perfect length and has super positive grip) and extended basepad.
Plus, their backplate. I went with red everything to match the Apex trigger from before.
My Polymer80 G19 might almost be done now! Especially with the release of their Extended Glock Slide Release that gives the perfect amount of extra grip.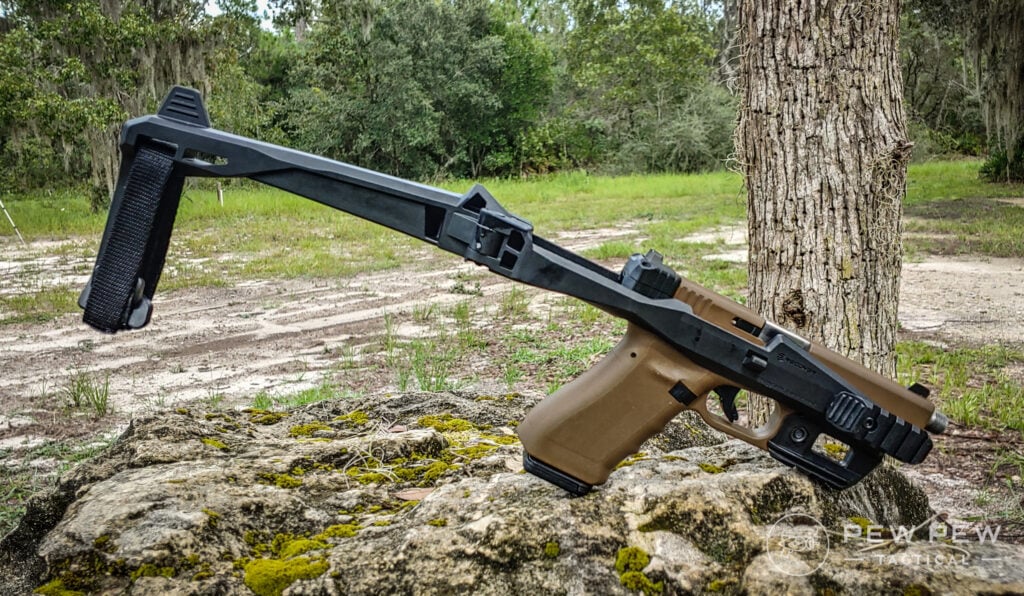 And they also have parts for the G43/G48.
Pretty good value to give your Glock both aesthetic value AND more capacity/grip.
And check out my finally complete Polymer80 G43 with a complete Tyrant upgrade kit.
5. Everything Else We Covered
Round out the rest of your perfect build with what we've already talked about, and you are SET.
Best Pistol Lights
Best Glock Triggers
Best Glock Sights
Glock Conversions
This one goes in a category of its own…
Ever wanted to make your Glock more carbine-like?
Our go to is the Recover Tactical 20/20 brace system which is super lightweight and gives you an extra two points of contact when folded out.
This really helps with accuracy and follow-up shots.
Plus you get some extra Picatinny rail space on the side to add lights/lasers and more.
We go over it more in-depth in our Recover Tactical 20/20 vs Micro Roni article where we crown the 20/20 the overall winner.
And now there's also the Recover P-IX system which changes your Glock into more of an AR-15 style system.
Pistol Braces and the ATF went head-to-head earlier this year, so make sure to read up on those latest developments!
Final Thoughts
Now go forth and upgrade…your Glock.
Let us know your favorite builds in the comments below. Then check out Editor's Picks for our favorite guns and gear.