Be it backpack, vest, lumbar pack, or chest pack, we've got the best fishing bags of the year lined up.
The tan fly fishing vests of yesteryear continue to evolve. And, there are seemingly endless options for fishing packs, backpacks, bags, tackle boxes, or whatever particular storage-type bag you choose to carry your gear.
Everyone has different preferences when it comes to carrying their fishing tools, and I'm fairly confident there's something on this list for just about everyone.
Side note: I once forgot my lumbar pack on a trip and used a gallon-sized ziplock bag with a carabiner run through the top, attached to the braided paracord that was my makeshift wading belt. It worked.
However, the packs on this list will give you comfort, convenience, and function that no sandwich bag can touch.
Best Backpack
Best Accessory Pack
Best Lumbar Pack
Best Vest
Best Boat/Tackle Bag
Best Chest Pack
Best Multipurpose Pack
Best Lanyard
Bonus
The Best Fishing Packs of 2022
Best Fishing Backpack: Simms Dry Creek Z Backpack
If you have gear that needs to stay dry, the Simms Dry Creek Z Backpack ($300) will get the job done. It is waterproof and fully submersible, with self-healing zippers. It keeps the outside out.
With a large, integrated net sleeve, you won't have any worries about losing your net to the river. The compression-molded back and padded straps mean you'll be comfortable wearing it all day.
It features a removable waist belt with MOLLE webbing for attaching all your fishing toys. It also has dual water bottle sleeves to keep you hydrated.
Where this backpack really shines is the water-tightness. Being a writer, I often take my laptop with me and leave it in the truck. The idea of being able to hike somewhere and fish with my laptop on my back without worrying about water is pretty slick. Everyone knows the best writing is created at the river office.
Check Price at Simms Fishing
Best Accessory Pack: Patagonia Stealth Work Station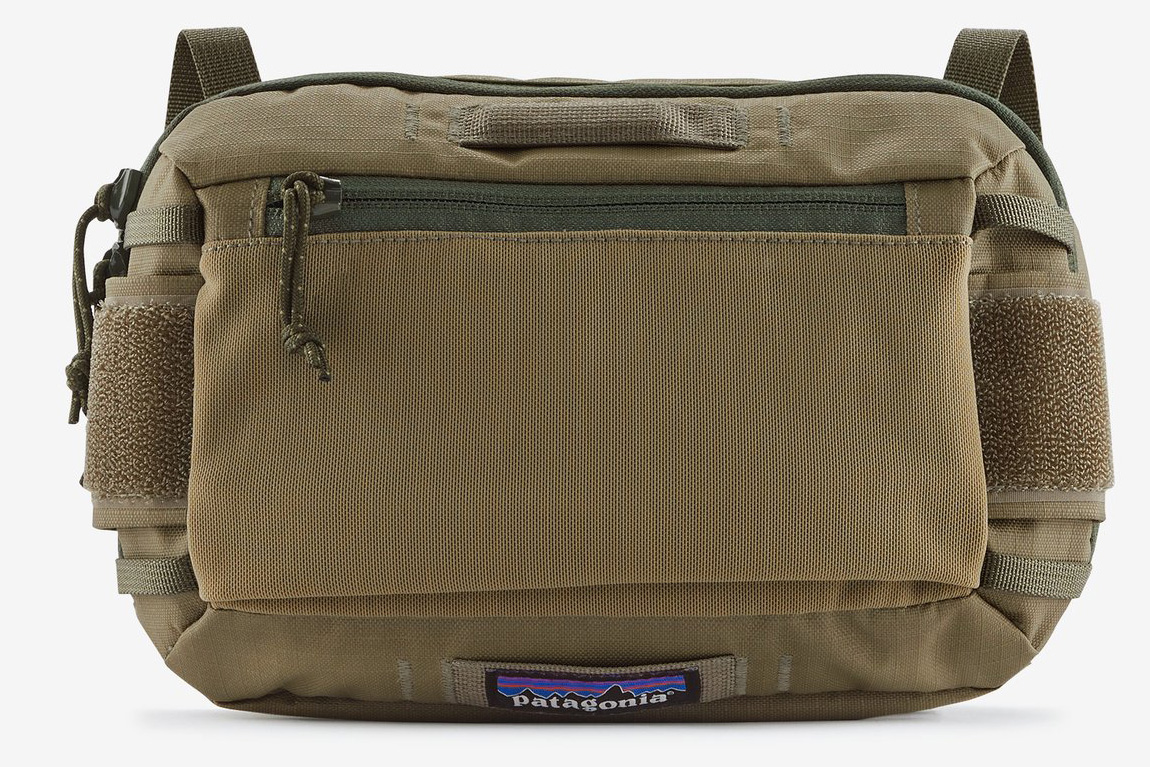 The Patagonia Stealth Work Station ($59) is a cool little pouch. You can hook the thing just about anywhere. It can strap to your waders on your chest or your wading belt. You can attach it to the outside of a backpack or hook it to the belt on your shorts. It really is a simple utility pack for fishing.
At 6 by 9.5 by 3 inches, it's roomier than you'd think. It holds quite a bit for its compact size and should suffice for most quick trips to the river.
It can also be used as an add-on for the stuff you don't always bring. Instead of repacking your bigger pack, just slap this guy on as an additional accessory pack.
Because it's Patagonia, it's fair trade certified and made with recycled materials, so you can feel good about the purchase.
Check Price at BackcountryCheck Price at Patagonia
Best Lumbar Pack: Orvis Guide Fly Fishing Hip Pack
The Orvis Guide Fly Fishing Hip Pack ($149) is a beast. It holds everything you could possibly need, including your river beverage of choice. The tippet docking station on the top keeps fresh line within reach while also preventing the irritation of having your tippet spool swinging about.
It comes with an additional shoulder/neck strap for wearing it as a true hip pack, allowing you to customize the way you want to wear it. The waist pockets have a slot to keep a net secure.
There are more pockets and organization options on this bag than you'll likely fill. The 9L capacity gives you ample storage while keeping your gear simultaneously out of the way and yet still in reach.
If you prefer a lumbar or hip pack and are going to spend long days on the water, this pack is a solid choice.
Check Price at BackcountryCheck Price at Orvis
Best Vest: Fishpond Upstream
The Fishpond Upstream ($200) proves that vests still have their place in the modern fly fishing world. There's a reason vests were the standard for so long. They work. Everything is accessible to you while being comfortable and providing ample storage without having to carry a bag of any kind.
The Upstream has an integrated rod holder, tons of attachment points, a large back panel for extra storage, and an integrated net slot. With 14 internal and external pockets, you might just get lost in the thing.
One of the downsides of vests is sizing. One size fits most is always a phrase that never sits well with me. Luckily, Fishpond offers Men's, Women's, and Kids' versions to help combat some of the sizing disparity.
Check Price at AmazonCheck Price at Backcountry
Best Boat/Tackle Backpack: Evolution Outdoors Drift Series 3600 Tackle Backpack
The Evolution Outdoors Drift Series 3600 Tackle Backpack ($130) is a storage machine. This combination tackle box/backpack takes a lot of the struggle of hauling traditional tackle and makes it far more backcountry capable.
With six easily accessible trays in the main compartment and room for an additional three smaller trays in the top compartment, you can haul a lot of hardware in this backpack.
The side pockets are rubberized and include a built-in line spool feed. Pliers are stored securely and easily accessed on the front, saving you from scrambling for them when you need them.
This backpack would make an awesome tackle box for the boat, a solid solution to kayak fishing storage woes, or just a great backpack if you want to hike in deep.
Check Price at AmazonCheck Price at Bass Pro
Best Chest Pack: Marsupial Fishing Chest Pack
This is the first year I've owned any gear from Marsupial. The Fishing Chest Pack ($140) has more than exceeded my expectations. The graduated main compartment and drop-down front pocket make accessing everything you need handy while not feeling bulky.
My first thought about the hemostat location was: I don't think I like that. Doesn't seem secure.
When I actually put it there and felt it click into place with the magnet I wasn't aware of — full-blown excitement.
There are several attachment points and four external stretch pockets, giving you plenty of quick access spots. There's a rear zippered pocket that is perfect for keeping your fishing license on you. It's well laid out and might just be replacing my smaller lumbar pack.
Check Price at Marsupial Gear
Best Multipurpose Pack: FHF Gear Chest Rig
If you prefer to keep your gear pile light, the FHF Gear Chest Rig ($120) with the Fishing Kit ($30) is an epic solution. This chest pack is not exclusively for fishing. The barebones pack is a great binocular harness for hunting season. The cool innovation here is the option of buying premade kits.
The Fishing Kit gives you the ability to customize the chest rig specifically for fishing. When your fishing season wraps up (mine never does), you can purchase other kits to customize the chest rig for waterfowl hunting or turkey hunting.
You also have the option of adding accessories such as a bear spray holster if you find yourself fishing in grizzly bear country.
It's a great option for those who want one pack that does it all.
Check Price at Amazon
Lanyard: Orvis Lanyard – Loaded
The Orvis Lanyard – Loaded ($98) is everything you need and more in a minimalist setup. I have days where I want to fish with everything but the kitchen sink. I have days where I'll dig around for one loose fly in my truck and pull over randomly to fish in whatever I'm currently wearing.
A lanyard is such a fantastic solution for those minimal, noncommittal days. The Loaded Lanyard from Orvis comes fully stocked with everything you need, meaning you don't have to unpack things from your big pack. All you need to add is a few flies, and you're good to go.
I love keeping a fully stocked lanyard in the console of my truck. That way, whether or not I planned to fish for the day, I'm capable of a last-minute stop at the river with very little prep.
Check Price at AmazonCheck Price at Backcountry
Bonus: South Fork Products Holding Magnets
Technically, it isn't a pack. However, these fly holding magnets from South Fork Products are $16-23. Do you hate trying to pry a hook out of a fly patch? Me, too. These should probably be in every fisherman's stocking this year. (Hint-hint, Santa.)
Check Duo Price at AmazonCheck Solo Price at Amazon
To Sum It All Up …
Just find what works for you. We all fish so differently in such unique scenarios. I carry a completely different pack than my dad, and he's the guy who taught me how to fish. The important part is finding something that carries everything you need without making you uncomfortable or hindering your movement on the water.
If you want to see some of the other cool fishing gear that graced this year's International Fly and Tackle Dealer Show, check out our coverage of the 2022 IFTD Awards.