Protect your hearing…and still hear important range commands.
The percussive vibrations of each gunshot actually kill vital little hairs deep in your inner ear. And that can open the door to a high pitch ringing or humming noise that can last forever.
We've got the 411 on the best shooting ear protection from affordable passive to electronic earmuffs that allow you to hear talking…and even in-ear options.
THE QUICK LIST
Show more (4 items)
How We Tested & Chose
These are the tried and true picks from our team with thousands of hours at the range as shooters, competitors, law enforcement, military, and range officers.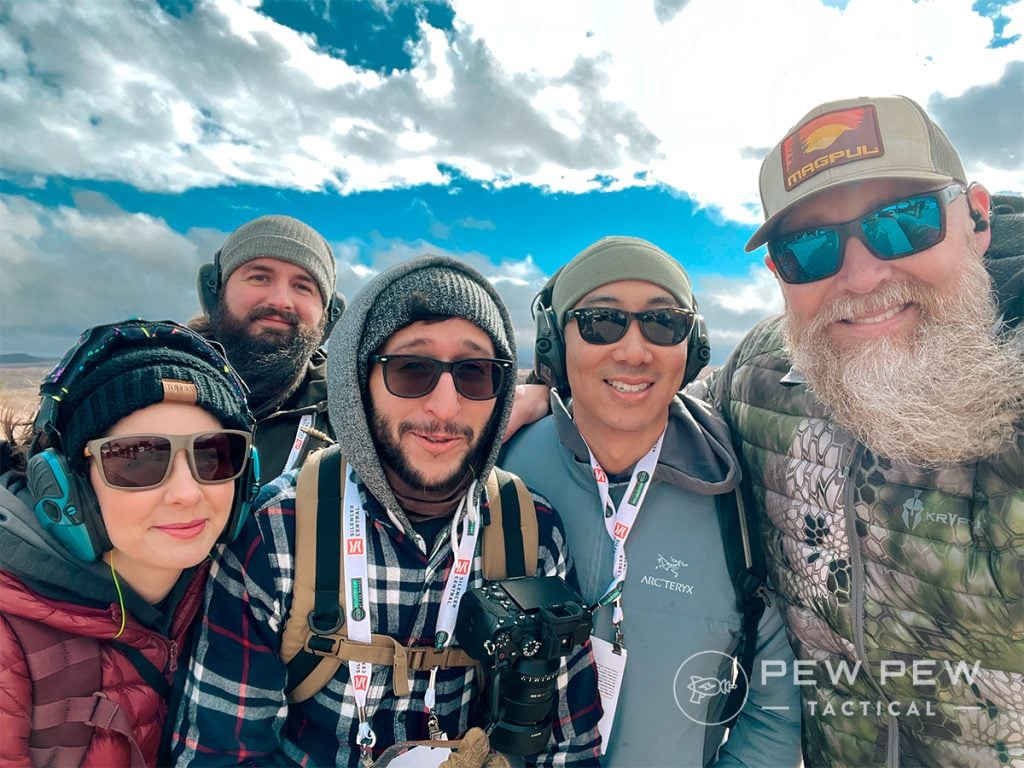 This article is the culmination of all our knowledge and what ear pro we would tell our closest friends and family to get.
We specifically chose options based on:
Protection
Higher is better but you make some tradeoffs with different designs. We tested against close proximity to large caliber rifles and compensated guns.
You'll see NRR (Noise Reduction Ratings, used in the US) and SNR (Single Number Ratings, used in Europe) in dB (decibels). A rough guideline is subtracting 3dB from SNR to get the equivalent NRR.
Comfort & Fit
If it isn't comfortable you'll get a headache or end up adjusting them during an extra loud burst of shooting.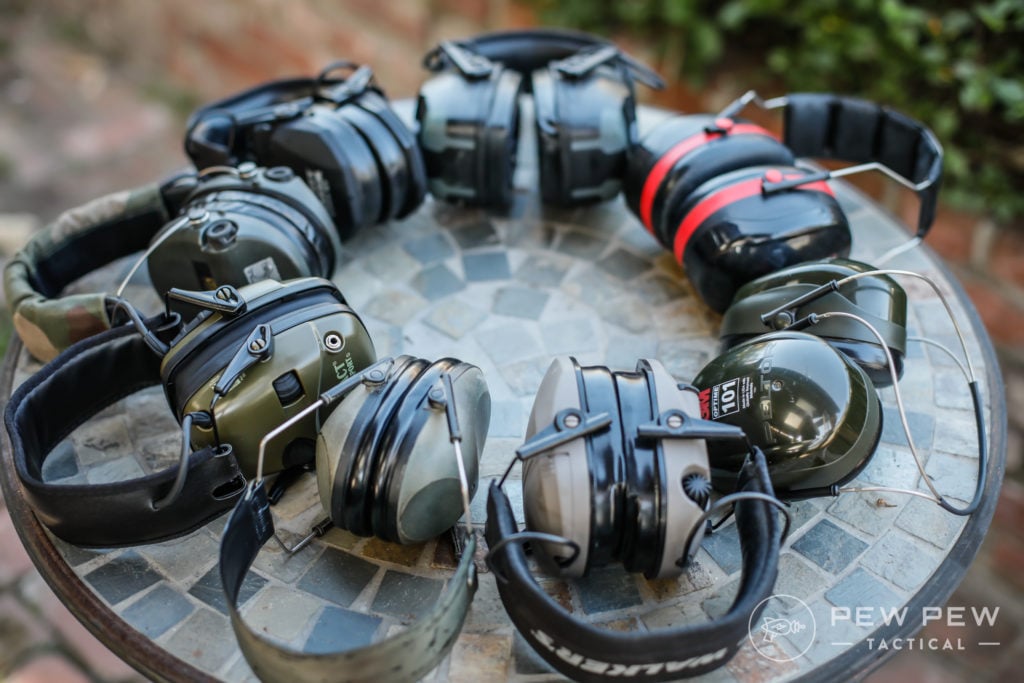 We've worn all of these for competitions (6+ hours) as Range Officers, which means we're extra close to the blasts.
Bang-For-The-Buck
Guns and ammo are expensive already.
We keep your budget in mind for our choices and have some favorites all the way from disposable foams to $300 professional grade electronic earmuffs.
Wear Style
We segment the options based on wear style…from passive options to electronic earmuffs and now the newest in-ear electronic options.
Best Passive Shooting Ear Protection
Best Foam Earplugs – Ear Buddy Foam Earplugs
Specs
Protection Level: 32dB NRR
50 Pairs
These are the most affordable of the bunch and really protective at 32dB NRR (noise reduction rating).
They take up hardly any space so I always have some in my range bag in case I forgot my larger ones or I have guests.
Remember to fully compress them before sticking them into your ears.
However it's not all roses…sometimes foam earplugs work TOO well and block out things you want to hear.
And if you have smaller or larger ear canals compared to the average person it might not feel or work that great either.
There are tons of other foam options, but I would stay away from pure cylindrical ones…those are not very comfy:
NRR 32: Individually Packaged
NRR 32: With Connecting Cord
Most Protective Passive – 3M Peltor Optime 105
Specs
Protection Level: 30dB NRR
Weight: 12 oz
Traditional "passive" earmuffs come on a headband and have foam pads that cover and form a seal around the entire ear.
The Optime 105 on the left is super protective with 30dB NRR but is also quite bulky.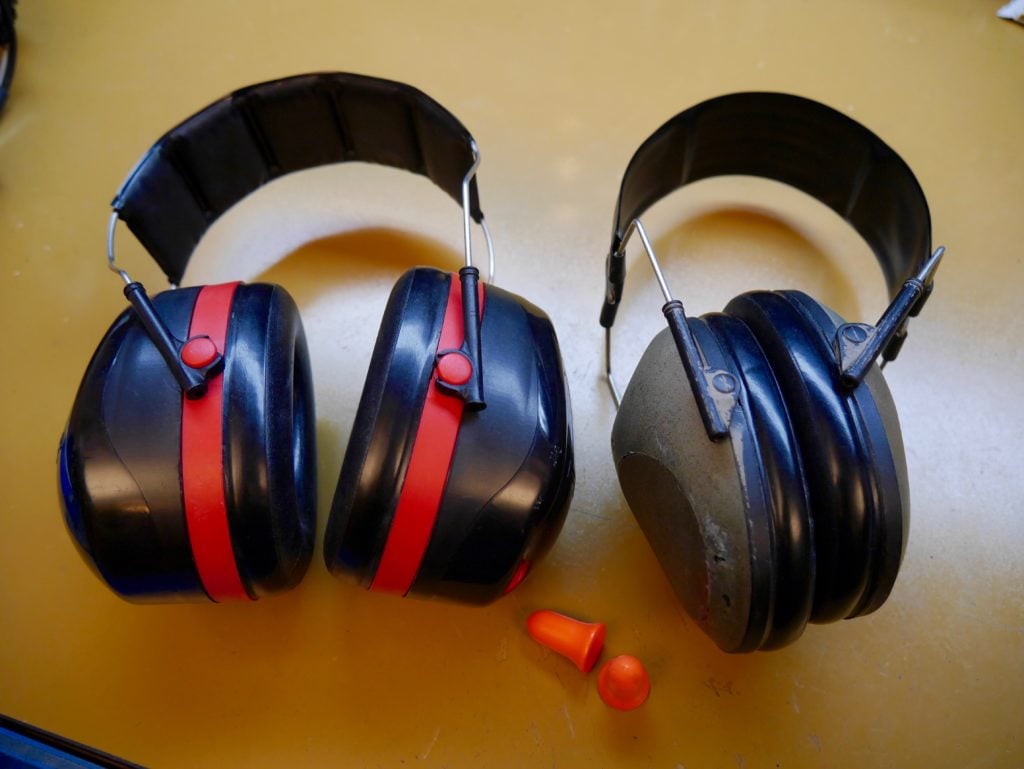 It's not heavy, but it will seriously cramp your cheekweld situation for rifles and shotguns because its large size will hit the stock.
Great if you're starting out and shooting handguns…and especially if you're at an indoor range where the sound reverberates.
Best Passive Cheekweld – 3M Shotgunner II
Specs
Protection Level: 24dB NRR
Weight: 9 oz
For going slim…I really like the 3M Shotgunner.
I painted mine over, and it served me well for years, especially when I wanted something simple and slim for pistol shooting.
It's decent protection at the base 24dB model, but you can always double up if it gets really loud with compensated rifles.
Comfort is average, but I found it to be fine for a few hours if I can take it off my ears when they call for a cold range to fix targets.
Best Reusable Earplugs – SureFire EP3 Sonic Defenders
Specs
Protection Level: 24dB NRR
Weight: Very Light
Want something reusable that gives you two levels of hearing protection?
Enter Surefire EP3 Sonic Defenders which have "filter caps" you can choose to have in or out.
Having it open gives you still decent protection against gunshots but allows you to hear range commands and regular talking.
Having them in gives you a decent 24dB NRR of protection.
They fit very well but keep in mind there are sizes…here I am comfy with Mediums.
Great for outdoor ranges and "normal" calibers…but if you're shooting indoors or shooting magnums, I'd double-up with these inside and then earmuffs over.
Best Electronic Shooting Ear Protection
Editor's Overall Pick – AXIL TRACKR
Specs
Protection Level: 27dB SNR
Weight: 12 oz
Batteries: 2 AAA
My current go-to Editor's Overall Pick goes to the AXIL TRACKR for an affordable and performing electronic headset.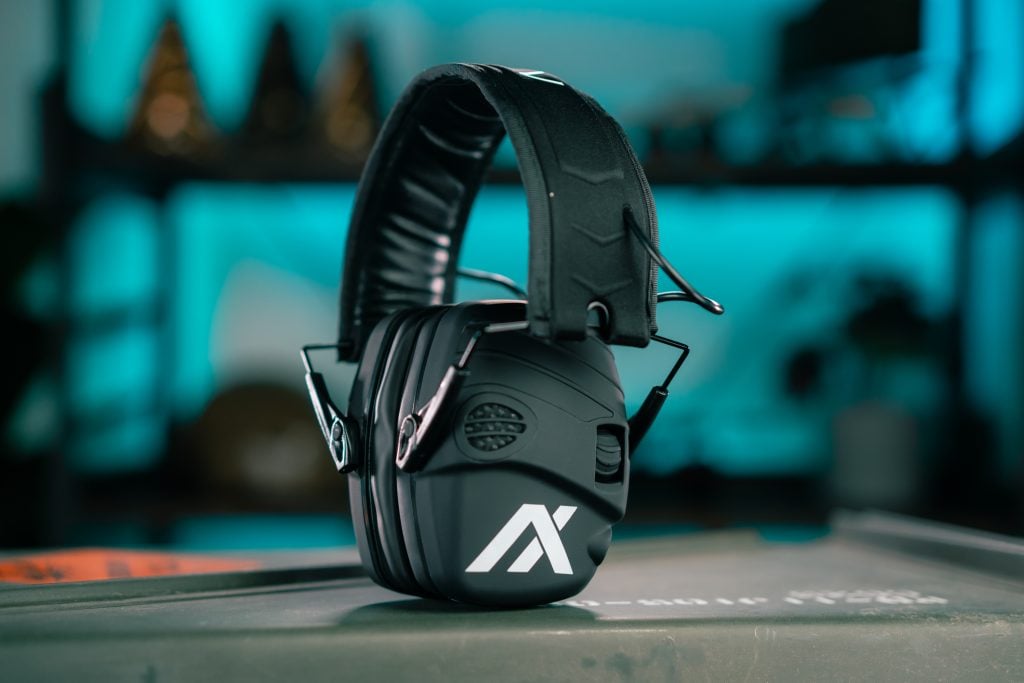 Electronic ear protection cuts out harmful shooting sounds but amplifies regular sounds like people talking. Great for hearing important commands at the range.
Our entire team tested out the TRACKR and found the padding and strap to be a bit tight out of the box but very comfortable once you stretched them out a little bit.
But the electronics were what really performed.
At the range, they did a great job of blocking out shots and amplifying speech. When I tested them out in my home office, I was somewhat surprised.
I was able to hear a conversation in another room, a bird tweeting outside, and my own breathing. AXIL's background in hearing aids shines through in the amplification.
NRR comes in at 25 dB, which is great for thin profile electronic earmuffs and enough for a day at the range unless you go into really big boy caliber ranges.
Price is $64, which is slightly higher than other budget options, but AXIL has a great deal of buying 2 for $99.
There's also a Bluetooth version rated at 27 dB where you can also enjoy tunes with a paired device. Separate volume switches allow you to dial the ambient noise or music to your listening pleasure.
You'll choose it at the bottom of the page with an extra $30 per headphone.
What do you think about AXIL?
Also Good Electronic Earmuffs – Walker's Razor Slim Muff
Specs
Protection Level: 23db NRR
Weight: 12 oz
Batteries: 2 AAA
These Walker's look great and performance is on-par for their price points.
They are head-to-head against the Impact Sports (with one more dB of NRR).
And keep in mind the Walkers don't have AUX-in if that's important to you. For myself…I've never had the need to use AUX-in since I'm not running music in or comms.
And, oh yes…they also have access to Upgraded Gel Pads which make it so much comfier and creates a better seal against your shooting glasses.
Runner-Up Electronic Earmuff – Howard Leight Impact Sport
Specs
Protection Level: 22dB NRR
Weight: 12 oz
Batteries: 2 AAA
These are the OG affordable electronic ear pro.
They are super popular for a reason. They are affordable, and they work…38K reviews on Amazon with a 4.7-star average.
It's the first pair of electronic earmuffs people get when they are tired of yelling "WHAT?!?" when someone speaks to them at the range.
Affordable, decent protection at 22dB NRR, slim for rifle/shotgun shooting, and reasonably comfortable.
However, nowadays I'd opt for the AXIL above for 25dB protection at the same price.
Plus, they come with AUX-in for devices.
The only thing I could knock them for was their comfort when wearing them for hours. But now, there are third-party gel caps that make them super comfortable.
These feel like the pads used in my favorite $200+ earmuffs further down the list.
Most Protective Electronic – Howard Leight Impact Pro
Specs
Protection Level: 30dB NRR
Weight: 15 oz
Batteries: 2 AAA
If you're ready to jump up a notch, you get 30 dB of protection and ability to hear people around you and range commands.
They are large and bulky, but surprisingly light and comfy to wear even for longer range sessions and provide amazing noise reduction. I'd recommend these if you are shooting large-caliber handguns or shooting at an indoor range.
They are pretty thick and will mess up your rifle cheek weld.
Plus…since they also fit the Noisefighters Gel Caps!
Higher End Electronic Muff – Pro Ears Pro Tac Slim Gold
Specs
Protection Level: 28dB NRR
Weight: 11 oz
Batteries: 4 N
For most, you'll be well-served with any of the before mentioned electronic hearing protection.
Next up is a bigger jump in price.
But with that, you get much better cutoff and amplification. Pro Ears has a stellar reputation, and I like their Pro Tac Slim Gold edition.
They don't make my Editor's Pick because they fit a little tight for people, and the ears aren't as comfy as the MSA Sordins.
But if you want better sound quality and shutoff (plus the ability to change it for each ear), I like Pro Ears' Pro Tac Slim Gold with 28dB NRR. Just keep in mind the slightly harder to find N batteries.
Competition Electronic Earmuff – MSA Sordin Supreme Pro X
Specs
Protection Level: 22dB NRR
Weight: 12 oz
Batteries: 2 AA
Most of my fellow competitors wear MSA Sordins for their comfort and sound quality.
I finally caved after I became a range officer for a couple of competitions. That meant constant blasts for hours while still needing to hear everything.
I simply asked my competition buddies, "what are the best electronic ear muffs" and the MSA's got the majority of votes.
They already have built-in gel caps, and there are a couple of colors. I, of course went with the camo…
They are comfy for hours with their gel caps, have easily accessible button controls, great sound cutoff, and compression, and allow for earplugs if the decent 22db NRR doesn't cut it.
The quality of the sound is also great. There's no buzzing when things are quiet, it seems the cutoff is faster when there's a loud noise, and voices sound better.
However, one annoying thing is that one of the batteries tends to get jammed and you'll need to carefully knock the entire unit if you want to change them.
Plus, they can attach to ballistic helmets and comms if that's your thing.
What I wear when I shoot for hours and my main recommendation for when people want the best.
Best In-Ear Electronic Shooting Protection
Editor's Pick In-Ear Electronic – Axil XCOR
Specs
Protection Level: 29dB SNR
Weight: 6 oz (with case)
Batteries: Internal Rechargeable
Finally…Apple-like tech has caught up with shooting ear protection. Now you can be cordless & in-ear!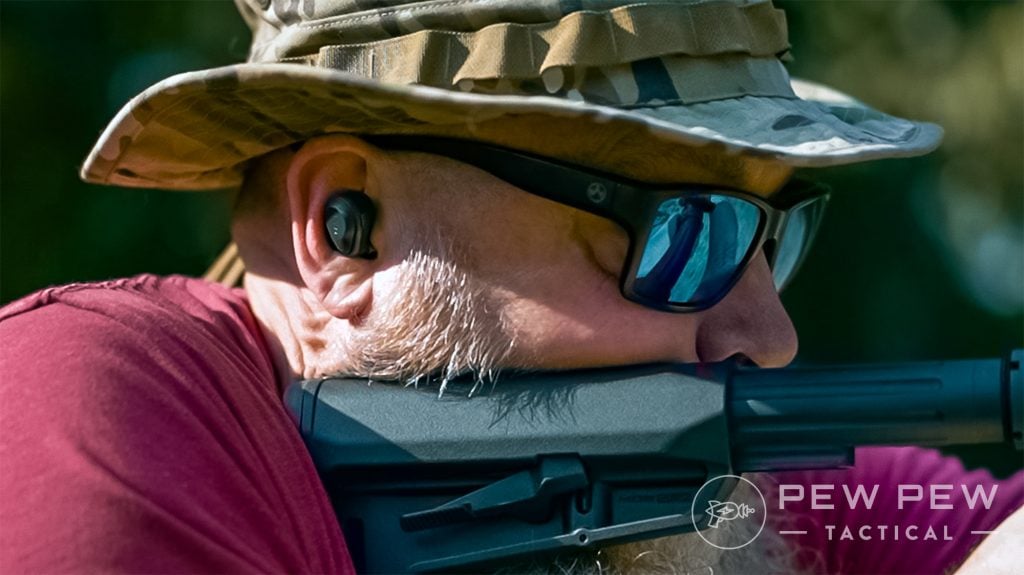 Using the XCOR, I didn't miss having a cord on the back of my neck or large earmuffs in the way.
The XCOR comes with a recharging case, USB cable, and a packet of different-sized foam plugs. You'll want to spend some time finding the right size.
Too small, you won't get the protection you need, too big, they'll be uncomfortable after a while.
I've used these for a few months now, and they seem to do a good job at both protecting me from gunshots and allowing me to hear my team.
I like that I can turn active hearing on or off with a touch. I also appreciate being able to listen to music and answer calls.
On a recent flight, I used these to drown out the sounds of a crying baby and listen to soothing music. Thank you 29db SNR!
Runner-Up In-Ear – Axil GS Extreme 2.0
Specs
Protection Level: 29dB SNR
Weight: 1 oz
Batteries: Internal Rechargeable
Battery Life: 25 hrs active or 120 hrs standby