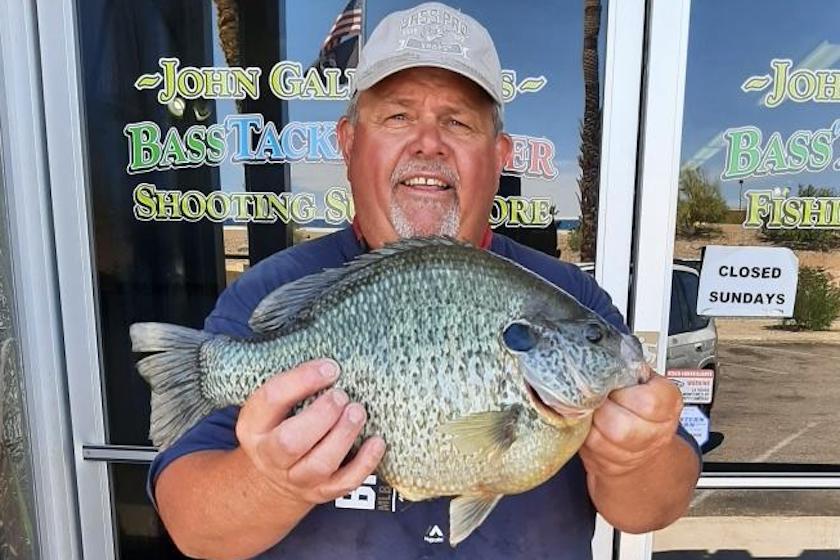 When Dan Johnson wrote the In-Fisherman story on Hector Brito's huge world redear sunfish in February 2014, the story centered around the catch of a 5-pound, 12.8-ounce sunfish from Lake Havasu that sent shockwaves throughout the angling world.
But since Brito's fish had broken Robert Lawler's 5-8.8 Havasu redear world-record mark set three years earlier in May 2011, Johnson concluded his world-record tale with a prophetic statement.
His final words in that story simply said … "Havasu is the hottest thing happening for giant sunfish at the moment. And you never know when the next record will rise from its depths."
With a near-miss challenger or two along the way since then, that next world record redear sunfish apparently arose from the depths of Lake Havasu this week on Tuesday, May 4, 2021. That's when 60-year-old Wisconsin angler Thomas Farchione landed what could be a new International Game Fish Association benchmark for the popular sunfish species.
While GameandFishMag.com will have a more in-depth visit with Farchione, who was wrapping up record application details as of this writing, he did give us a comment for this breaking news: "I was hoping to catch a couple of 4-pounders to mount for the wall. But this is great!"
Indeed. While the several-weeks-long process to certify Farchione's redear as the new IGFA world record is just beginning, the official numbers on his behemoth sunfish are simply stunning, as are the photos of the outsized specimen that went viral overnight on social media.
How big is Farchione's big redear? According to John Galbraith, owner of the longtime Bass Tackle Masters shop (basstacklemaster.com; 928-854-BASS) at Lake Havasu, the official weight on the certified scale checked in at 6.30 pounds, with the huge sunfish measuring 17 inches in length and 20 inches in girth.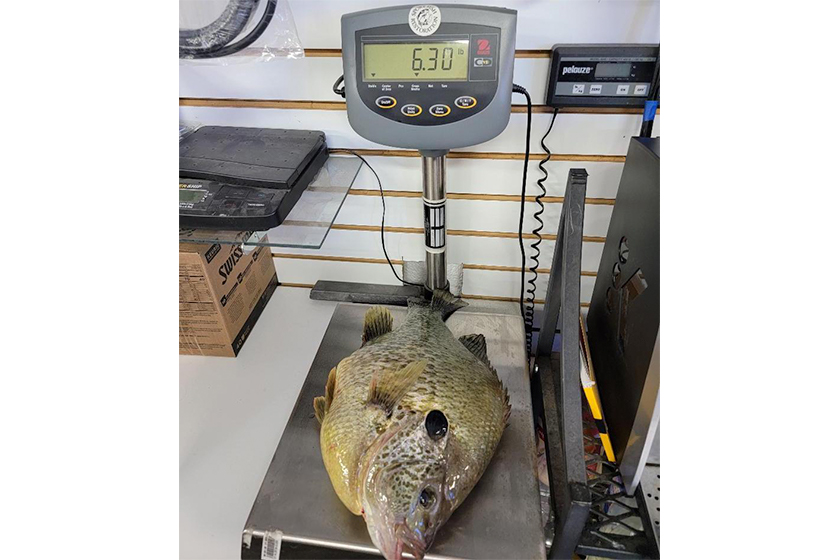 Having weighed Lawler's previous world record in 2011 and Brito's current world record in 2014, Galbraith knew pretty quickly that Farchione's huge redear sunfish would have a good chance to break the existing IGFA mark.
"Yeah, when I saw it, I figured that it was (the new world record)," said Galbraith. "Lots of anglers claim that they've got the new record after weighing it on a scale they bought at Walmart, but they've all ended up falling short."
But not this one, especially since Farchione—who reportedly caught the fish using a nightcrawler on a drop-shot rig that had an Owner hook and 6-pound-test Vanish Transition line—took no chances.
"He caught it at 1:30 in the afternoon and they had showed up here by 2:30," said Galbraith, who has owned his shop for nearly 20 years now. "They came right in after they caught it and that's a key, to get it weighed shortly after you catch it. Since these fish can cough up stuff, defecate, and lose weight just due to the stress of being caught and riding around in a livewell, it's a big key to get it to a scale as quickly as possible."
Havasu Reputation
As some anglers know, Lake Havasu—a 19,300-acre reservoir on the Colorado River along the Arizona/California border—has a reputation for good black-bass and striped-bass fishing. With its excellent habitat, the lake behind Parker Dam has numerous fishing tournaments and has spawned angling careers like that of Lake Havasu City resident and longtime Major League Fishing and Bass Pro Tour competitor Dean Rojas.
"Havasu has an average depth of 35 feet and some 450 miles of shoreline," said Galbraith. "It's normally clear and in terms of habitat, it has all of the above with cattails, coves, rocky points and outcroppings, etc. And the lake changes as you move towards the dam, going from river fishing in the north to lake fishing in the south. It's got very diverse habitat that you can fish, and it can produce good fish throughout the lake."
Such superb angling has helped Galbraith's shop become a tackle-store destination, attracting fishing pros and industry veterans like Skeet Reese, Gary Dobyns, Brent Erhler, Bobby Barrack, Ish Monroe and Jay Yelas, to name a few.
Al Linder, founder of our sister publication at In-Fisherman, as well as a hall-of-famer in both the Professional Bass Fishing Hall of Fame and the Freshwater Fishing Hall of Fame, has also been a customer at Galbraith's shop, as he has spent time away from the harsh winters near his Northwoods home.
"He (Linder) was fascinated by these big redears," said Galbraith. "Since he would fish here over the winter and go back to Minnesota in the spring, he was actually here in February 2014 when Hector caught his world record redear. Al came into the shop the next morning and was taking video of it when Hector walked in and saw Linder holding his fish. Hector recognized Al and was virtually in tears and nearly came over and hugged him (Linder)."
While Linder wasn't present yesterday when Farchione brought in his apparent IGFA world-record redear, a lot of other people certainly were within minutes of the angler bringing the giant panfish into the shop.
"Yeah, a fish like this always starts a buzz going," said Galbraith. "When the redear was brought in, a crowd started gathering pretty quickly in the front of the store and someone snapped a photo and put it on social media. That photo spread quickly, and I even had (one news outlet) call me while it was in the store. I said, 'Listen, I'm still weighing this fish right now.'"
Farchione's huge redear—which would be a good-sized largemouth or smallmouth bass in a Bassmaster Elite Series or MLF Bass Pro Tour event—went viral on social media in the evening and overnight hours, leading to a variety of phone calls and e-mails to Galbraith's shop.
"You are actually the third writer that has called me about it," he said, while also noting that several other messages had come in from outdoor media members even as we talked. "And it was on the front page of our local newspaper today. I'm not sure how they managed that so quickly."
While Galbraith has targeted the shopping habits of bass anglers and striper fishermen with his store's more than 50,000 items, he admits that Havasu is certainly the trophy redear capitol of the world right now.
"I would say it would have to be," he said. "I mean if two previous world records don't do it, the third time is the charm and this one would have to do it, right? It's certainly the place to go if you like redear fishing."
Quagga Crazy
Why do the redears get to such outsized proportions at Lake Havasu? We've tackled that topic before here at Game and Fish and there are certainly several good reasons according to Galbraith, including the lake's excellent habitat, it's forage and nutrient base, and the region's mild climate and long growing season.
But certainly, one of the primary reasons that redears began to increase in size at the southwestern reservoir is because they've gone "Quagga Crazy." That's because of the proliferation of invasive quagga mussels that first appeared in Havasu back in 2007, a couple of years before the fish began to expand in size and four years before Lawler's redear started the lake's world-record parade.
The Arizona Game & Fish Department says that it isn't coincidental that redears are growing so much bigger in recent years after the quaggas showed up more than a decade ago.
Why is that? While Havasu's redears take advantage of the lake's other food resources like grass shrimp and redswamp crawfish, they've become especially fond of the invasive quaggas, a food resource that redears—also known as shellcrackers throughout their range—are able to take advantage of because of the pharyngeal teeth in their throats that allows the panfish to crush and feed on crustaceans.
"The quaggas showed up here around 2007," said Galbraith. "By 2010, the new lake record redear weighed 4.14 pounds. Then Robert Lawler set the first world record in 2011, followed by Hector Brito's world record in 2014. Now we've got a 6.30.
"So you can definitely see the influence of the quaggas here."
And with a late spawn this year due to weather conditions and redears still harboring a lot of egg-laden weight as this story is written, who knows how long it will be before a crowd gathers again at Galbraith's tackle shop to see another giant, world-class sunfish on the certified scales.
"This is my third world record to weigh," he said. "We routinely weigh lots of redears in the four- and five-pound range. I've even seen them around seven. In fact, I saw a photo of one that was 7+ and the angler didn't know what he had before he ate it. It was huge. And we weigh a number of these fish in the four- and five-pound range every year."
Meaning that the threshold of redear world-record weights may not have been reached yet at Lake Havasu and that one or more additional world records could be possible.
"I would think so," said Galbraith. "I don't know how big the genetics can go on redears, but they are definitely growing big as fast as they can here."
Just ask Wisconsin angler Thomas Farchione about that, because he's got a fish for the wall to prove it.