Christensen Arms' new Ridgeline FFT delivers a rare mix of incredible accuracy and precision in a shockingly lightweight and easy to carry package not often found in hunting rifles. Learn all the details about this new rifle in my Christensen Arms Ridgeline FFT review.
I think we can all agree that lighter rifles are a lot easier to carry afield, especially when your hunt involves carrying that rifle for miles of tromping through thick brush or hiking way up in the mountains at breathtaking altitudes. The problem is the ultra light rifles that are easiest to carry under those conditions can be difficult to shoot accurately.
Those super lightweight rifles often come with punishing recoil when chambered in heavier calibers. If that weren't enough, they also usually cost a pretty penny as well.
Well, the folks at Christensen Arms tried to do things differently with their new model of the Ridgeline rifle using Flash Forged Technology (FFT). Basically, their goal here was to build an extremely lightweight hunting rifle that's still durable and strong while also delivering pinpoint accuracy.
And oh by the way, they also wanted to sell this new rifle at a much lower price point than the custom ultra lightweight rifles hunters previously had to buy for that level of performance.
Did they succeed? Or is this all a bunch of hot air?
I recently got the chance to evaluate the new Christensen Arms Ridgeline FFT rifle. I put that rifle through the paces at the range and afield in Africa and I'm thrilled with how things turned out.
This article is a detailed Christensen Arms Ridgeline FFT review where I go over the pros and cons of the Ridgeline FFT rifle so you can make an informed decision regarding whether or not it fits your needs as a hunter.
Before we get started, I have an administrative note:
Some of the links below are affiliate links. This means I will earn a small commission if you make a purchase. This commission comes at no extra cost to you. This helps support the blog and allows me to continue to create free content that's useful to people like you. Thanks for your support.
What Is The Christensen Arms Ridgeline FFT And What Makes It Unique?
Christensen Arms got their start back in 1995 when they became the first gun maker to manufacture carbon fiber wrapped rifle barrels. They started out producing .22LR rifles and have expanded their offerings in recent decades to a wide range of rimfire and centerfire hunting, tactical, and target shooting rifles.
Indeed, their Ridgeline model, which has a carbon fiber composite gunstock, a carbon fiber wrapped barrel, and is a poster child of carbon fiber manufacturing, is highly regarded in the hunting community.
I'd never heard of Christensen Arms until a friend of mine happened to bring a Ridgeline chambered in 6.5 Creedmoor to the range back in 2020. He let me shoot it and holy cow was I impressed!
I went home that evening and immediately started trying to learn more about Christensen Arms rifles.
Christensen Arms broadened their rifle lineup to include models utilizing what they call "Flash Forged Technology" in early 2022.
What the heck is that?
I'll let Christensen Arms explain this new process to you:
With a sleek monocoque shell design that takes its cues from the aerospace industry, Flash Forged Technology eliminates up to a full pound of unnecessary internal weight compared to traditionally manufactured carbon fiber composite rifle stocks.

Other manufacturers stick to old-school methods and simply "overbuild" a product to meet safety standards, resulting in a product that's unnecessarily heavy, cumbersome, and inconvenient…When we created Flash Forged Technology, we broke the status quo and not only built products that exceeded crucial strength and safety margins — we did it in a way that was lighter, stronger, more durable, and more environmentally friendly.

Thanks to FFT's ability to be broken down and reused as new materials we're able to operate with 100% zero-waste manufacturing without producing harmful toxins and emissions. This new technology allows us to reduce our environmental impact to protect our lands and wildlife for ourselves and the people who come after us—all while putting a better product in your hands.
Bottom line, FFT allows Christensen Arms to build rifles that are significantly lighter than those made using traditional construction techniques.
The company further expanded their FFT offerings at the 2023 SHOT show to include some even lighter Titanium FFT models in Christensen's Ridgeline series, similar updates to their Mesa line, FFT upgrade kits for standard Ridgeline and Mesa models, and a completely new rifle line (their latest model is the Modern Hunting Rifle) that also utilizes Flash Forged Technology.
To top it all off, they also partnered with Hornady to manufacture rifles in the brand new 7mm Precision Rifle Cartridge (7mm PRC) in 2023 as well.
Well, I decided I needed to see what all the fuss was about, both with the 7mm PRC, and with the Ridgeline FFT.
I had a hunt in Africa scheduled for May of 2023, so I dug around and managed to find a left handed Ridgeline FFT chambered in 7 mm PRC on GunBroker in the spring of 2023. I bought the rifle, mounted a new Leupold VX-5HD scope on it, and spent the next few weeks getting intimately familiar with my new Ridgeline FFT at the range.
The Ridgeline FFT uses a precision-machined 416 stainless steel action and carbon fiber wrapped 416R stainless steel barrel. Christensen Arms currently manufactures the Ridgeline FFT in 22 cartridges, 8 of which are also available in left-handed configurations.
Receivers are drilled and tapped for use with standard Remington 700 bases with 6-48 screws. The Ridgeline also has an enlarged ejection port to facilitate easy loading along with an internal box magazine that holds four rounds (three rounds in magnums) and a FFT hinged floorplate.
The bottom metal is constructed using billet aluminum and is released using a button inside the front of the trigger guard.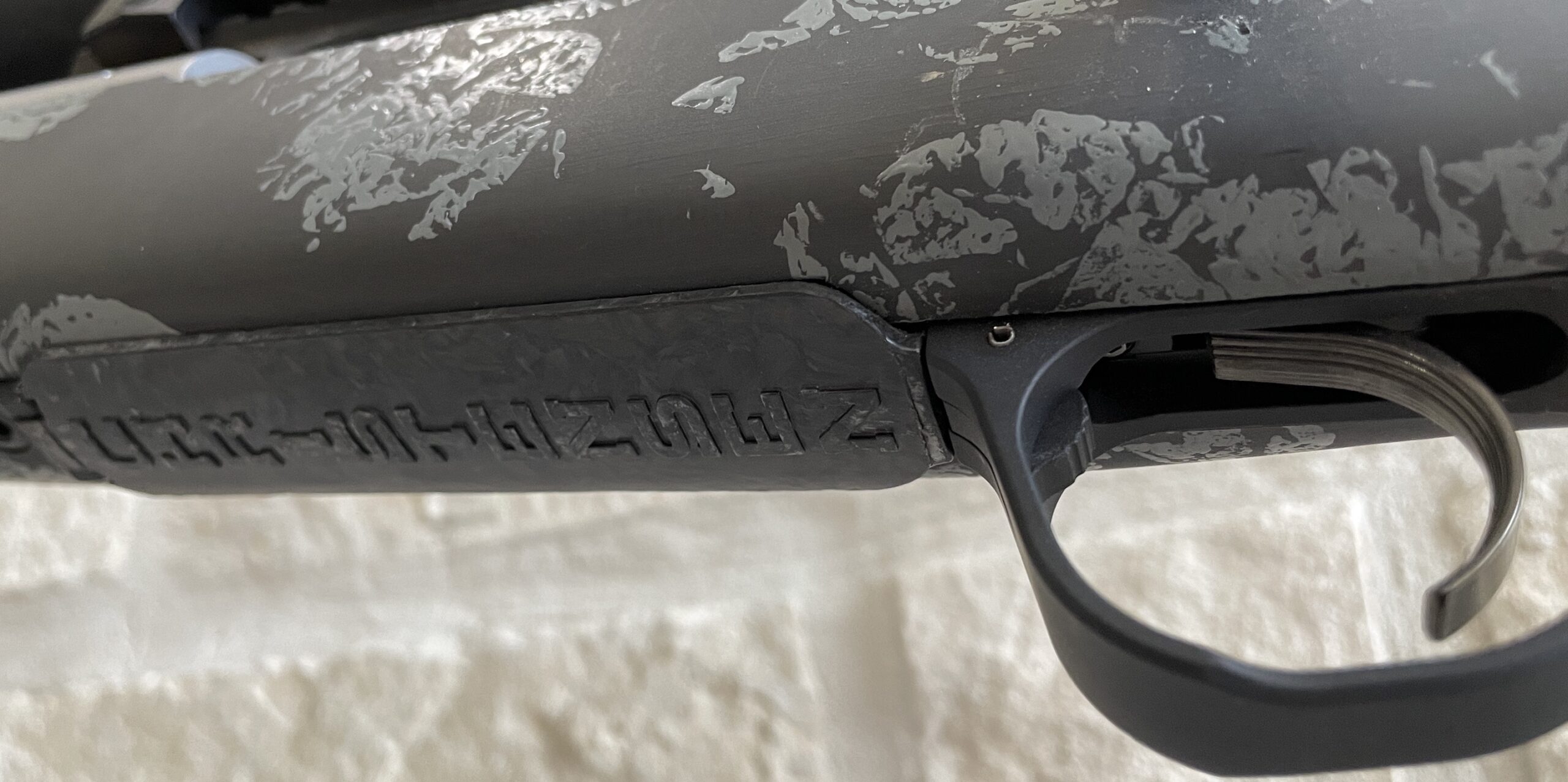 The rifle comes with a TriggerTech trigger. Trigger Tech triggers are among the best in the business and the one on my Ridgeline FFT is no exception, delivering a light (but not too light), smooth, and crisp break.
I mentioned earlier that the Christensen Arms Ridgeline FFT uses a Christensen Arms carbon-fiber barrel. Specifically, it's made from 416R stainless steel wrapped with aerospace carbon fiber, is free floating, button rifled, hand lapped, and has a match chamber.
All Ridgeline FFT rifles come with a factory threaded barrel (5/8-24 TPI, except the 22-250 model has a 1/2-28 TPI threaded muzzle) and sporting a removable stainless steel side-baffle muzzle brake, which are increasingly common additional features these days.
So, this rifle may be used with no muzzle attachment, a muzzle break, or with a suppressor depending on the desires of the owner.
The Ridgeline FFT uses a sporter style Christensen Arms FFT carbon fiber stock with stainless steel bedding pillars, spot bedding, standard quick detach sling swivels, and a recoil pad.
Ridgeline FFT rifles use a dual lug, spiral-fluted bolt with a skeletonized bolt handle and an interchangeable FFT bolt knob.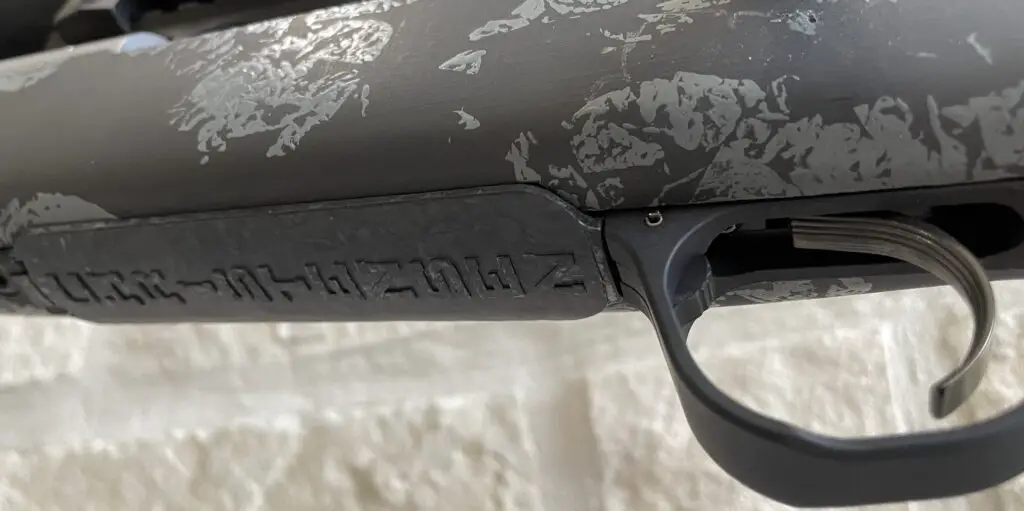 For those keeping track, the stock itself, the bolt knob, and the hinged floor plate are all made using Flash Forged Technology.
Barrel lengths are either 20″ or 22″ depending on the cartridge.
My specific rifle, which was chambered in 7mm PRC, has a 22-inch carbon-fiber barrel with a 1:8 twist. It measures right at 44 inches from recoil pad to brake. Length of pull is 13 5/8 inches. Replacing the break with a thread protector (sold separately) shortens the overall length of the rifle down to 42 3/8 inches.
As I do with virtually all my hunting rifles, I replaced the front sling swivel with a Spartan Precision adapter from Javelin Bipod so I can use the rifle with their bipods and tripods.
With all of that in mind, my rifle weighs 7 pounds 12 ounces "fully loaded" and exactly how one might carry it afield: a scope base, rings, VX-5HD 3-15x44mm scope, muzzle brake, the Spartan Precision adapter, an "Ultimate Firearm Sling", and a full magazine with 3 7mm PRC cartridges.
That's not bad at all for an off the shelf long action magnum chambering with a fairly big scope and some extra accessories. Indeed, that's right in that 7-8 pound overall weight range often thrown around as ideal for a "mountain rifle."
If you drop down to a lighter rifle scope, use an ultralight Leupold scope base and rings, ditch the muzzle brake, and stick with the regular sling swivels, you could very well get down below that magic 7 pound mark for an ultralight rifle (or even lighter with a short action cartridge with a 20″ barrel).
Using one of their FFT models with a titanium action will shave an additional half pound or so off that weight right off the bat as well.
In my opinion, far too many "hunting rifles" are simply rebranded match rifles that, while often capable of outstanding accuracy, are too heavy and cumbersome for use afield. Sure, you can carry one 100 yards to a box blind without a lot of trouble, but rifles like those quickly become a real pain to carry on a backcountry hunt.
As you can see, that's most definitely not a problem with the Ridgeline FFT!
That's not to say this isn't an accurate rifle either. Nope, Christensen Arms offers a 1 MOA accuracy guarantee with high quality, match-grade ammunition with the Ridgeline FFT.
More on this in a second.
The Christensen Arms Ridgeline FFT is currently available in a wide range of cartridges including: 22-250 Remington, 243 Winchester, 6mm Creedmoor, 6.5 Creedmoor, 6.5 PRC, 6.5-284 Norma, 26 Nosler, 6.8 Western, 270 Winchester, 7mm-08 Remington, 280 Ackley Improved, 7mm Rem Mag, 7mm PRC, 28 Nosler, 308 Winchester, 30-06 Springfield, 300 Winchester Magnum, 30 Nosler, 300 WSM, 300 PRC, 300 RUM, & 450 Bushmaster.
Furthermore, Christensen Arms is one of the few companies these days that manufactures left-handed rifles.
My Ridgeline FFT in 7mm PRC has a left handed bolt and they also offer left handed versions of the Ridgeline FFT in 6.5 Creedmoor, 7mm-08, 28 Nosler, 308, 300 Win Mag, & 300 PRC.
Now that we've covered the basics of the Christensen Arms Ridgeline FFT, let's talk about what I like and don't like about it.
What I Like About It
Like I mentioned previously, I purchased a brand new, left-handed Christensen Arms Ridgeline FFT rifle chambered in the brand new 7mm PRC cartridge to take to Africa on a hunt in May of 2023.
There are three things that really stand out to me about this rifle.
First, it's extremely lightweight and easy to carry.
Second, it's shockingly accurate.
Third, recoil was surprisingly mild for such a lightweight rifle.
Let's dive into each of those things in more detail, starting with how well it shoots.
Like all Ridgeline rifles (except those in 450 Bushmaster), the Ridgeline FFT falls under the Christensen Arms sub-MOA guarantee.
Here are the details straight from Christensen Arms:
The customer is responsible for following our barrel break-in process and using high quality, match-grade ammunition, and proper use conditions.

Any firearm that falls under our Sub-MOA Guarantee is guaranteed to be capable of shooting 3 shots within 1 MOA (roughly 1 inch at 100 yards).
It's important to note that they specifically mention you need to follow their barrel break-in process, which is pretty stringent.
So, like a good little boy, I headed to the range and started the break-in process.
I had a couple boxes of Hornady Precision Hunter and Hornady Outfitter ammo loaded with 175gr ELD-X and 160gr CX bullets respectively. My plan was to use the Outfitter ammo on my actual hunt if it shot well, so I started off shooting the Precision Hunter ammo during my barrel break-in.
Initial results were not great, but I followed the break-in instructions to a "T" and watched my accuracy steadily improve. My rifle was darn near shooting one ragged hole with the Precision Hunter ammo near the end of the process.
Fortunately, cleaning got progressively easier the more I shot.
Not only did that rifle shoot lights out after break in was complete, but I was pleasantly surprised at how well the carbon wrapped barrel performed as I shot.
It would heat up towards the end of a shot string, but it didn't get nearly as hot as other rifle barrels with a thinner, stainless-steel barrel (like my Nosler M21). I did not notice a significant point of impact change going from a cold to a hot barrel either, which is another advantage of using carbon-wrapped barrels.
Accuracy was great with both factory loads I've shot in that rifle after I completed break in. Three-shot groups with the 175gr ELD-X bullets averaged right around .7 inches and the 160gr CX bullets delivered approximately .9 inch groups on average for me at 100 yards.
I shot my best group with Precision Hunter 175-grain ammunition, but even the "worst" ammo shot great.
For instance, I took the photo below of my last 3-shot group at the range (160gr CX bullets, standing, off sticks at 110 yards) before heading to Africa. That quarter is .95″ in diameter.
I was ecstatic with that sort of accuracy, especially considering the fact that I obtained sub-MOA performance with two different factory hunting loads with an extremely lightweight off the shelf rifle.
This is a point I emphasize a lot and it's especially important here: the Christensen Arms FFT is a hunting rifle, not a competition rifle and there's more to building a good hunting rifle than shooting a really small group size.
To that end, a good hunting rifle must be easy to carry and still perform well when shot from various field shooting positions. Well, I'm not exaggerating when I say the Ridgeline FFT is a dream to carry!
I carried it for an average of 6-8 miles a day on my hunt in Africa and that was by far the easiest to carry rifle I've ever hunted with.
Note that the extreme light weight of the Ridgeline FFT's stock meant that it handles a little differently than many other rifles. More on this in a second.
I've shot and hunted almost exclusively using some sort of suppressor with my Ridgeline FFT: sometimes a Banish 30, a Banish 46, or a locally produced South African suppressor. This made it a tiny bit more awkward to carry and navigate thick brush, but the rifle still handled pretty well.
A rifle with a short barrel comes in handy under conditions like that. The fact that the rifle has a 22″ barrel instead of a longer 24″ or 26″ barrel like many other magnum cartridges (like the 7 mm Rem Mag and 300 Win Mag) definitely helped in this area.
All in all, the rifle carries well and also provides a good shooting platform, which is a rare combination.
In that same vein, recoil was surprisingly mild, notwithstanding the rifle's weight.
Now, the 7mm PRC is a true 7mm magnum cartridge that delivers performance more or less in-between the 7mm Rem Mag and the fire breathing 28 Nosler.
The 7mm Remington Magnum is one of the milder recoiling "magnum" cartridges, but I was still curious to see what 7mm PRC recoil would be like in a rifle this light.
I started off shooting the rifle with the new side-baffle brake it ships with. As expected, the muzzle blast was fierce, but recoil was barely noticeable.
The true test came when I removed the brake and shot the rifle "bare" with just a thread protector: recoil was certainly heavier, but still not bad, All in all it was probably a bit less than my 300 Win Mag (which is a couple pounds heavier).
Recoil dropped back to (and perhaps below) what I experienced with the muzzle brake when I screwed a suppressor on the muzzle. This also dramatically cut back on both the sound and muzzle blast.
The Ridgeline FFT with that suppressor, a VX-5HD scope with an illuminated reticle, and those 160gr CX bullets was a deadly combination in Africa.
I could carry it all day long for several miles, yet still be fresh enough to sprint into position and make a good shot on an animal right as the sun dipped below the horizon.
For instance, I really wanted a blue wildebeest on my recent hunt in Africa, but they gave me the slip for the first few days of my trip. Fortunately, we spotted a nice bull near sunset midway through the hunt.
We'd been out hunting all day and had already covered several miles it the preceding hours (plus over a dozen more in the previous days), but I still had enough gas left in the tank to sprint about 300 yards to get into shooting position in the fading light. As lightweight as it was though, my Ridgeline FFT felt rock solid on the shooting sticks and I made a perfect shot, dropping that bull in his tracks.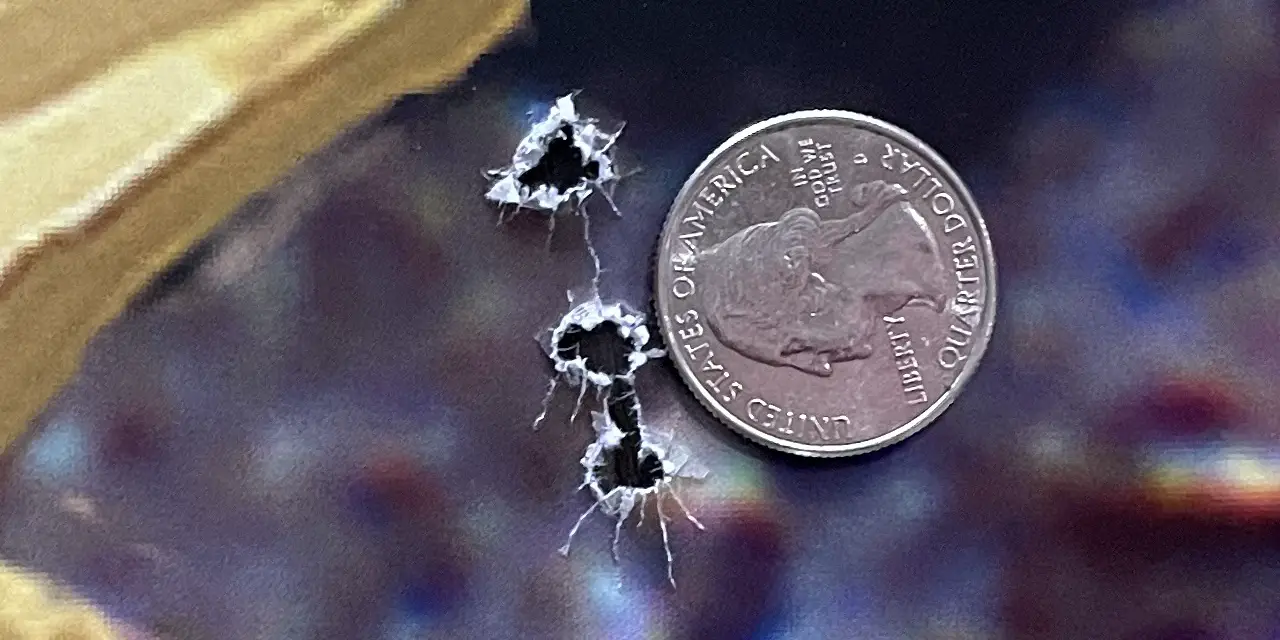 Two days previously I used that same rifle on an impala.
After a long and frustrating stalk, we finally encountered a big herd that contained a nice ram. We got set up looking through an opening in the brush and watched a few ewes and young rams file through.
The big ram was last and I made a snap shot after my PH whistled to stop that ram in our shooting lane. He ran just 10 yards after the shot.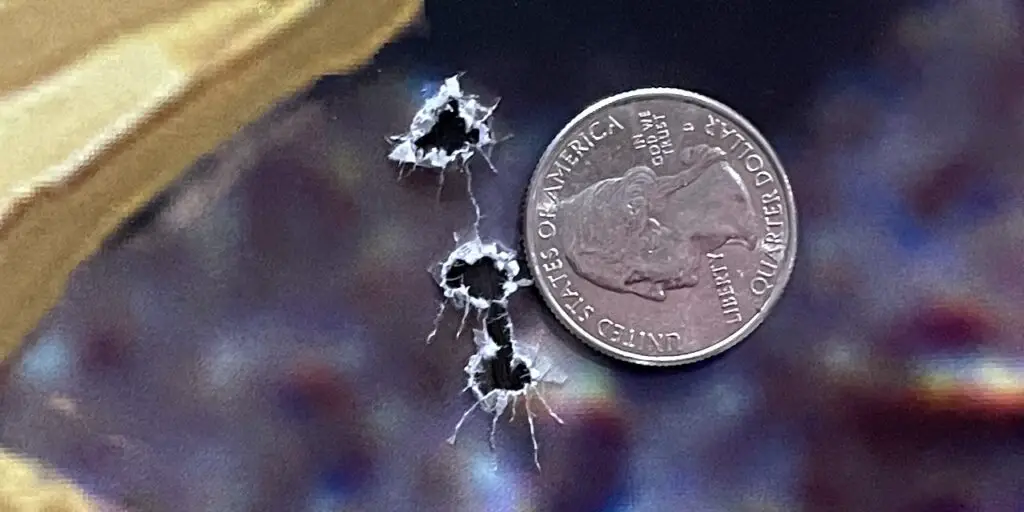 Both animals also required us to set up for a shot, move positions slightly, and then set up again multiple times before things finally worked out. Fortunately, the easy handling characteristics of the rifle made this a breeze and I could not be happier with how it performed in Africa.
The Ridgeline FFT rifle also proved very reliable at the range and afield. I experienced no feeding, extraction, or ejection issues over the course of putting a couple hundred rounds through it over the course of about two months.
Next, the rifle uses a fixed magazine with a hinged floorplate. I prefer these to detachable magazines since I'm always afraid I'll inadvertently drop and lose my magazine afield.
I realize not everyone feels that way though, keep that in mind if you prefer detachable magazines.
Additionally, I really like the Trigger Tech trigger on the Ridgeline FFT and it's among the best I've ever used on any rifle. It's smooth, has no creep or overtravel, and my rifle's trigger broke cleanly at just over 3 pounds from the factory for me.
Finally, I think this rifle just looks really cool and I like it's stylish paint scheme.
What I Don't Like About It
I think the Christensen Arms Ridgeline FFT is an outstanding rifle, but there are a couple of minor issues I don't like about it.
First, I don't like the fact that I had to break in the barrel.
On one hand, the rifle barrel break in process wasn't that long (several hours of work over the course of two trips to the range), it only requires a couple boxes of ammunition, and you only have to do it once.
Plus, the rifle's accuracy was phenomenal after I was done.
On the other hand, I would prefer not to have to spend that much time and energy breaking in the barrel on a $2,000+ high end rifle like the Ridgeline FFT.
Next, I noticed the rifle bolt was tight and difficult to open at first. This progressively worsened over the first couple dozen rounds I fired.
I eventually got it open with a good deal of effort. I thoroughly cleaned the bolt along with the rest of the rifle that evening and I made sure to lubricate the locking lugs on the bolt.
That made an immediate difference and I noticed on my next trip to the range that, just like how accuracy improved, the bolt also gradually became easier to open the more I shot it.
Now the bolt operates as smooth as silk.
I think this just may be something that happens with a precision rifle with very tight tolerances and a match grade chamber. Those things can help deliver outstanding accuracy, but that also can result in some hiccups as the rifle "wears in."
So lesson learned: make sure you lubricate the locking lugs on your Christensen Arms Ridgeline FFT with grease before you shoot it (you just need a touch of lube).
You should do that with every bolt action rifle you own, but it seems especially important here.
Next, like I mentioned earlier, the extremely lightweight stock on the Ridgeline FFT means this rifle is a little bit nose heavy.
While I like a rifle to balance just in front of the front action screw, this particular rifle balances a few inches farther down the stock towards the muzzle. That balance point moves even further forward when you add a suppressor.
That's not a gigantic deal and it still handled fine for me afield, but I thought I should mention it.
Finally, this rifle has a two-position safety just behind and to the left of the receiver (it will be on the opposite side on right handed models).
The safety performed flawlessly, but I don't like that the bolt does not lock when the safety is engaged. This is typical for rifles with a two-position safety and will allow you to unload the rifle with the safety engaged.
Even so, I'm personally a fan of the three-position safety used on the Winchester Model 70 and Ruger Hawkeye rifles.
Once again, not a giant deal, but I did want to mention it.
Christensen Arms Ridgeline FFT Review: Final Thoughts
All things considered, I think the Christensen Arms Ridgeline FFT is an excellent hunting rifle. In fact, it's in competition for my favorite hunting rifle at this instant and has me wondering if I need to put my .300 Win Mag out to pasture.
The Utah based Christensen Arms made a name for itself by making carbon fiber hunting rifles and I think the new Ridgeline FFT is the perfect addition to their rifle line.
Make no mistake: the Christensen Arms Ridgeline FFT rifle is not cheap.
With a suggested retail price of $2,399.99, the Ridgeline FFT is definitely not a budget rifle. However, don't forget that it's designed to compete with other lightweight, premium quality (often custom or semi-custom) hunting rifles that deliver incredible performance afield.
With all that said, I can say that the Christensen Arms Ridgeline FFT, especially in a versatile cartridge like the 7mm PRC, is potentially the best all-around hunting rifle I've ever hunted with. That shorter barrel is easier to maneuver in the tight confines of a box blind down in south Texas, but is also at home pursuing pronghorn, mule deer, or elk out west. The same is true going after plains game in Africa.
Plus, while buying one won't turn you into a long-range shooter overnight, the incredible accuracy potential of the rifle makes it easier to nail shots at longer range.
The Titanium FFT version of the Ridgeline is likely in competition for the title of the ultimate lightweight hunting rifle among factory production models. Chambered in a short action cartridge (like the 6.5 PRC), the FFT Titanium is an excellent choice for a true mountain hunt, like for sheep in Asia or in the Rocky Mountains.
If you're looking for a lightweight, very accurate, easy to carry, reliable, and functional hunting rifle that you can take on that hunt of a lifetime in some really nasty terrain and still rely on for shots at across a wide range envelope, then I highly recommend the Christensen Arms Ridgeline FFT.
If you want to buy a Christensen Arms Ridgeline FFT rifle for yourself, click the button below to see what's currently available.
BUY A RIDGELINE FFT RIFLE HERE
ALSO BUY A RIDGELINE FFT RIFLE HERE
Christensen Arms Ridgeline FFT Specifications
Type: Bolt-action rifle
Cartridge: 22-250 Remington, 243 Winchester, 6 mm Creedmoor, 6.5 Creedmoor, 6.5 PRC, 6.5-284 Norma, 26 Nosler, 6.8 Western, 270 Winchester, 7mm-08 Remington, 280 Ackley Improved, 7mm Rem Mag, 7mm PRC (tested), 28 Nosler, 308 Winchester, 30-06 Springfield, 300 Winchester Magnum, 30 Nosler, 300 WSM, 300 PRC, 300 RUM, & 450 Bushmaster
Weight: Starts at 5.3 lbs (cartridge dependent), 5lbs 13 oz (7mm PRC model tested)
Magazine: 4 (standard) or 3 (magnum cartridges, including 7mm PRC model tested))
Barrel: 20 in. (22-250, 243, 6mm Creedmoor, 6.5 Creedmoor, 6.5 PRC, 6.8 Western, 270, 7mm-08, 308, 300 WSM, 450 Bushmaster) or 22 in. (all other chamberings, including 7mm PRC model tested)
Overall Length: 41.65-44.5″ (cartridge dependent), 42″ (7mm PRC model tested)
Twist Rate: 1:8-in. twist (tested 7mm PRC) (1:7.5, 1:7, 1:8, 1:9, 1:10, 1:14, 1:16 in other chamberings)
Thread Pattern: 5/8×24 threaded (or 1/2-28 for 22-250) removable stainless steel side baffle brake included
Stock: Christensen Arms FFT carbon fiber
Left Handed Models: Available in 6.5 Creedmoor, 7mm-08, 7mm PRC (tested), 28 Nosler, 308, 300 Win Mag, & 300 PRC
Action Finish: Natural Stainless, Burnt Bronze Cerakote, or Black Nitride
Stock Finish: Carbon with Gray Accents, Carbon with Green & Tan Accents, Sitka Subalpine, or Sitka Elevated II
Trigger: TriggerTech Field adjustable (2.5-5.5 pounds)
Sights: None, drilled and tapped for Remington 700 bases
Manufacturer: Christensen Arms
Accuracy Guarantee: Yes (excludes 450 Bushmaster)
2023 MSRP: Starting at $2,399.99
Enjoy my Christensen Arms Ridgeline FFT review? Please share it with your friends on Facebook and Twitter.
Make sure you follow The Big Game Hunting Blog on Facebook, Instagram, Twitter, and YouTube.
NEXT: BEST GIFTS FOR HUNTERS
NEXT: 7 mm REMINGTON MAGNUM vs 300 WIN MAG
Endorsement Disclosure: Per the guidelines of the Federal Trade Commission, the product reviewed here is an endorsement.