Crosman M4-177 Review
Thursday, May 29th, 2014 at 5:59 pm

The Crosman M4-177 was first introduced publicly in November, 2011. It got its official name of M4-177 in January, 2012 (before that time it was called the M417). Since its first introduction, it quickly became one of the most popular and sought-after air rifles on the market. Crosman has made this gun as a replica of the M4-Assault rifle with the pumping action to reflect the tactical style air gun shooters are looking for. You will find it easy to fall in love with this cool air rifle at the end of this review.
Gun Type
The Crosman M4-177 is a multi-pump pneumatic air rifle. A multi-stroke air gun has a piston and a pressure cylinder inside the chamber. When you cock the gun, the air between the piston and the cylinder is compressed. It has no where to go and is forced into the cylinder. The cylinder itself has a lock valve that allows the air in, keeps it there and doesn't let it leak out. When you pull the trigger, you release the pressurized gas and it propels the bullet downrange inside the barrel. All of this happens in a fraction of a second.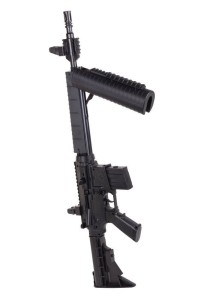 A multi-pump air rifle permits you to have control over the power of the gun. The more you pump, the higher the velocity, the greater the power. The less you pump, the lower the FPS, and the lower the power. This characteristic of a multi-stroke air gun provides you adaptability for short and long range shooting as well as for indoor or outdoor shooting.
A multi-pump air gun is lightweight, compact and recoilless. Most of them have medium power. They are also self-contained with manual pumping action so you don't have to buy expensive pumping equipment such as CO2 cartridges or scuba tanks like other pneumatic air rifles. The only downside of a pump air gun is the considerable amount of time and effort required for cocking action before each shot. In a hunting situation, your animal target can run away if you don't hit it with the first shot and are still busy with the pumping action.
The caliber (the internal diameter of the bore, measured in inches) of the Crosman M4-177 is .177 inches or 4.5 millimeters. .177 caliber is the most common caliber of air gun. It uses .177 pellet which often has high velocity, good knockdown power and flat trajectory. To be more specific, flat trajectory makes it easy to zero in the target and effortless to make an accurate shot. .177 pellet also is very cheap so it's awesome for shooters who want to shoot a lot without worrying about the cost of ammo.
The Crosman M4-177 is a single shot air rifle. It means that you can only shoot one shot at a time, after that you have to pump it for the next shot. A single shot air gun teaches you a great deal about marksmanship. No hasty shooting here just by pulling the trigger and spraying pellets all over the place. You only have one shot one time and you know you have to make it count. Therefore, your shooting skill and level are increased quickly with this single shot gun.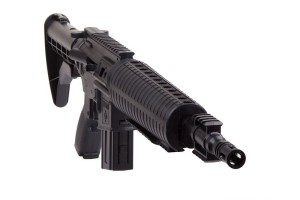 The barrel of the Crosman M4-177 is rifled. Rifled barrel has spiral grooves inside it to make the bullet spin around its long axis. Spin stabilizes the bullet in its trajectory, improves accuracy and enhances the shooting range.
What makes the Crosman M4-177 stand apart from other air guns is its looks and that it feels like a real M4- Assault Rifle. To give it a realistic look and tactical style, Crosman has made it with many non-function features you can find in the real Carbine such as: flat suppressor, hammer pin, trigger pin, magazine release button, take down pin, charging handle, etc. Though its cool style is a plus point, you may want to put the high visibility tape on it or paint the end of barrel to so your friends and relatives don't misunderstand that you are playing around with a real firearm.
Stock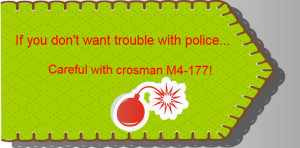 The stock of this air rifle is black synthetic. Compared to wood stock, synthetic stock is lighter and more resilient to atmosphere conditions. If you live in a hot,  humid place, a wood stock can expand or contract due to the changes in weather conditions and the gun may not be accurate anymore. On the contrary, a synthetic stock is not affected by moisture or temperature. Hence, it is great choice for people who live in high moisture or hot places, for hunters shooting in the field and facing different weather (rain, snow, etc) and for shooters who don't want to waste time caring about the stock's condition no matter where they live.
The synthetic stock of Crosman M4-177 is made of ABS plastic. ABS stands for acrylonitrile butadiene styrene (chemical formula is (C8H8)x(C4H6)y(C3H3N)z). It is the common material used to make air rifles today. ABS plastic is known for its light weight, rigidity, strength, toughness, temperature resistance and impact resistance.
The stock is also adjustable. It has 5 positions so you can adjust the stock length to fit your unique need. With a fixed stock, sometimes you may find it doesn't fit perfectly with your arms. However, with the adjustable stock, you can adjust it to any position you want , whether you have a short arm or a long arm.
The Crosman M4-177 features a textured polymer forearm. This fore grip is a little longer than the air soft version of the M4-AR to make it easier to cock the gun with the pump action.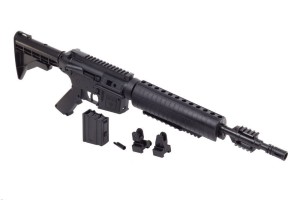 The stock has two loop slots for the sling: one in the stock and the other under the front sight. You can use it to attach the sling to carry the gun around if you like. Besides, the stock is ambidextrous so it helps shooters enjoy the same shooting experience whether they are left-handed or right-handed. It also has the thin plastic pad at the end so you can place it standing up without having it slip on the flat surface. The magazine of this rifle is made for display purposes only and can be removed from the stock without a sweat. You can use it to store BBs, pellet clips, and sight adjustment tools for easy access when you are shooting.
Ammo
The Crosman M4-177 uses both BBs and .177 pellets as its ammo so you can shoot whatever ammo you've got in your hands. It also includes a 5-shot pellet clip, and the BB reservoir can hold up to 350 BBs at a time. Therefore, you can practice target shooting for long hours without worrying about running out of ammo.
Cocking and Loading
In order to cock this gun, first you push the cross bolt safety in the trigger guard to put the gun "ON SAFE" position. Then you hold the stock with one arm, fully grasp the fore grip with your other arm and extend it all the way until it stops. After that, you swing it back into its original position and you are done pumping the gun for one time. However, you should pump your gun at least 3 pumps (to prevent pellet jamming in the barrel) but no more than 10 pumps ( since over pumping causes damage to your gun)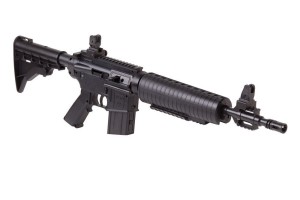 I'm really impressed with the way Crosman made this air gun for using both BBs and pellets.. They let you load BBs in one side and pellets on the other side so there is little room for confusion. To load BBs: first you locate the BB loading port, move the loading port cover toward the rear of the gun. Then you can pour 350 BBs into it. Close the port cover, push BB retainer button forward, tilt the rifle down, shake the gun and let gravity feed BBs into the magazine . After that, you pull the retainer button back to lock them in. Now, you position the pellet clip so the BBs can be feed through one of the pellet's chambers. With the barrel tilted downward, the magnetic bolt will pick up the BBs when you cock the bolt (pull it back and push it all the way forward). And voila, you are ready to shoot with BB ammo. Besides, if you want to load pellet, first load pellet into pellet clip ( with the pellet's nose lying forward) . Next, you pull the bolt back, put the pellet clip into the gun ( make sure the pellet's chamber is aligned with the barrel).Then push the bolt all the way forward and you are ready to fire with pellet. The loading action of BBs and pellets may seem complicated at first but when you get used to it, it will become second nature.
With Crosman M4-177, you have to remember that you can not shoot both BBs and pellets at the same time. Only shoot one type at one time, either BBs or pellet.
Velocity and accuracy
The Crosman M4-177 has a maximum velocity of 660 FPS (feet per second) with steel BB, and 625 FPS with pellet. With 5.23 grains Crosman Copper head BBs, Daisy zinc-plated BBs, and steel BBs, its velocity is 576 FPS, 579 FPS and 650 FPS respectively. With Crosman premier supper match pellet, 8.18 grains pellets, 7.9 grains Crosman Premier pellet, its velocity is 529 FPS, 559 FPS and 625 FPS respectively. We can see that the velocity with different pellets is quite consistent and provides medium speed for shooting.
For the Crosman M4-177, various accuracy tests have been performed by different shooters with positive results. The common shooting groups are: 0.25" at 25 yards, 5/8" at 12.5 yards, 1" at 15 yards, 2" at 40 yards, 0.25" at 25 feet, quarter size at 40 yards, 2" at 35 feet, 4" at 100 feet, 0.25 inches at 30 yards, 1.4" at 20 yards. Some shooters can even shoot metal drum at 100 yards. In short, this gun is very accurate for 40 yards or less.
Sight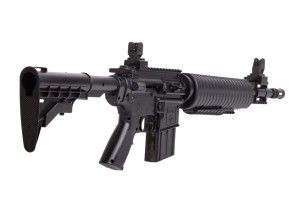 The Crosman M4-177 comes with an open sight. The sight consists of a post front sight and dual aperture rear sight. The aperture sight (also known as a peep sight) is similar to the open sight except it has a small hold (or should that be "hole"?) cut through the middle of the rear sight. When aiming, shooters look through the aperture, focus their eyes only on the front sight and the target. The eyes will automatically center the front sight and hence ensure accuracy. The picture of front sight and the target is sharp and clear while the surrounding of the aperture now is only out of focus blur zone. So sometimes aperture sight is also called ghost ring sight. The aperture rear sight has a significant advantage compared to a factory open sight. With a traditional sight, your eyes have to focus on 3 points : the target, the front sight and the rear sight. It's really hard to focus on 3 points at the same time since they are located at different distances from the eyes. But with aperture rearsight, there are only 2 points to focus on: the front sight and the target because the eyes automatically focus on these points at the center of the ring. In conclusion, aperture sight is fast to pick up, is easy to improve accuracy and is optically superior to a traditional open sight.
The aperture rear sight of the Crosman M4-177 is dual, which means that it has two rings with different purposes. The ring with the bigger aperture permits you to zero in the target more quickly while the ring with the smaller hole provides you more precision for aiming. Moreover, the rear sight is designed for windage adjustment (allows you to adjust the sight left and right) while the front sight is made with elevation adjustment (allows you to adjust the sight up and down). Both front sight and rear sight are removable. You can remove them to use a scope if you like.
The accessory rail is manufactured in the Picatinny style. A Picatinny rail is almost identical to the weaver rail, except it has a series of ridges located at precise intervals along the rail. The Picatinny rail gives you lots of benefits. First, you have more mounting options . Second, you can swap scope from one gun to another and use different scopes in one air gun as well. Finally, no more worrying about tube length, eye relief, etc since you can place scope rings any place you want . In summary, a Picatinny rail is undoubtedly the most accomplished and flexible of all optic rails.
Another thing to consider us that although this gun has up to 4 optic rails ( 2 rails in the barrel, one in upper receiver and one in hand guard), I recommend you use only 2 rails(on top of receiver and on top of the muzzle ) for mounting your favorite accessories because if you attempt to install accessories like a flashlight in another 2 rails (in the forearm and in the bottom of the barrel), it will get in the way of stroke action and cause serious trouble when you pump this gun.
This video below will explain in detail how to install and adjust the sight for this air rifle:
Noise
This gun is very quiet. It has lots of customer reviews on Amazon, Walmart, Pyramid Air, Cabelas, etc and none of them complain about noise.
Shooting range and intended use
The effective shooting range of the Crosman M4-177 is less than 40 yards. The maximum shooting range can be up to 100 yards. This gun can be used for both indoor and outdoor shooting. The manufacturer recommends it for plinking, target shooting, and small and large pest control.
Accessories
This gun only has the front sight and rear sight as included accessories. If you want to utilize the built-in features, you can buy other gear such as: sling, scope, red dot, laser, flashlight, and so on.
Maintenance
This air gun requires little to none maintenance. Just put a few drops of Crosman 0241 Pellgunoil into the barrel and into the pivot pin every 250 shots and you can use this gun for years to come.
Specification
Caliber : .177
Power plant: multi-pump pneumatic
Cocking effort: 3-10 pumps
Maximum Velocity: 660 FPS with steel BB, 625 FPS with pellet
Ammo: BBs and pellets
Weight: 3.75 lbs
Barrel Length: 17.25"
Overall Length : 33.75"
Capacity: single shot
Barrel: steel rifled
Front sight: removable, adjustable for elevation
Rear sight: removable, dual aperture, adjustable for windage
Trigger safety: manual
Accessory rail: Picatinny Style
Buttpad: plastic
Material : Metal / ABS plastic
Pros
Look and feel like real M4-AR
Lightweight
Medium velocity and decent power
Quiet
Very accurate
Useful synthetic/adjustable stock
Control over power of the gun with pumping action
Can shoot both BBs and pellets
Picatinny optic rail
Effective dual aperture sight
Cons
Pumping action takes time to learn and can be tedious experience
Not great for hunting situation
Don't have scope
Warranty
As of this date, Crosman offers a one year limited warranty from the date of purchase for this air rifle.
Customer Reviews

This air gun has lots of customer reviews on Amazon, Walmart and other online retail stores. Most people love its cool style and find it very fun to shoot with. They also like its quietness, easy-to-use open sight, adequate velocity, sufficient power and modern design. Nothing arises as a serious issue. I have highlighted the most important factors of this gun in this review.
Price
The Crosman M4-177 is only about 60 dollars. This is a very cheap price for a gun with an awesome design, that is quiet, has decent velocity and power, a great open sight, and an impressive stock.
There are a couple of different listings on Amazon with different prices but the listing I found with the lowest price is even cheaper than the price on manufacturer's site or the prices on other e-commercial sites like PyramydAir, Walmart, AirgunDepot.
Conclusion
This is actually a great multi-pump pneumatic air gun with lots of benefits for a very cheap price. If you are not a fan of pump action rifles then this may not be for you but if you don't mind the pumping action, I highly recommend this gun so you can have lots of fun shooting for hours with it or you can buy it for your kids, your friends and your relatives to practice shooting together.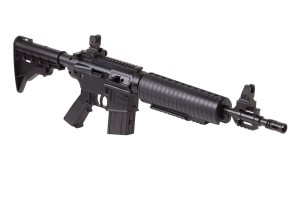 Filed under: Reviews • Variable pump
Like this post? Subscribe to my RSS feed and get loads more!